Dry mortar plant is a set of equipment that is designed to mix dried sand, cement, thickening powder, fly ash, and other functional additives together according to different recipes. The plant produces bagged or bulks dry mortar, which can be applied directly after mixed proportionally into the water and stirred for a while.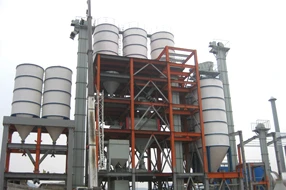 Model: HSLZ40B ~ HSLZ80B
Annual Production: 200 ~ 400k Tons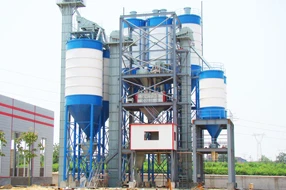 Model: HSJZ40C ~ HSJZ80C
Annual Production: 250 ~ 450k Tons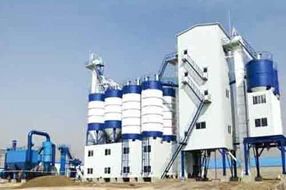 Model: HSTL40B ~ HSTL80C
Annual Production: 200 ~ 450k Tons
What Is Dry Mix Mortar?
It is mixed raw materials in dry form that is made by mixing sand, cement, mineral, and functional additives together proportionally. This process is commonly conducted by a dry mortar mixing machine. According to its usage, dry mix mortar falls into three types, colored powder coating, adhesive, and road or ground repair and hardening materials.
It enjoys serval advantages as follows.

Due to stable and reliable quality, it can meet different functional and performance requirements and improve the quality of the project.
Strong adaptability to new wall materials makes it conducive to the popularization and application of new wall materials.
It's easy to use. Simply adding about 15% water to it and stirring for 5-6 minutes, dry mortar can be applied.
How Do You Make Dry Mix Mortar?
According to the products to be produced and the location and terrain of the site, the plants adopt different process design schemes. The common process layouts are tower type, stair type, block type and flat type.
1. Tower Type Mortar Mixing Facility
Its sand screening machine, storage bin, feeder, metering hopper, mixer, packaging machine and stacking conveyor, and other equipment adopts a top-down configuration. After prefabricated and screened, the sand is lifted to the top of the raw material silo with a hoist, and the sand flows out of the silo by its own gravity. It needs to undergo such processes as computer dosing, screw conveyor metering, and mixing, then will be packaged by a packaging machine, and finally stored in finished product warehouse or loaded into the truck in bulk.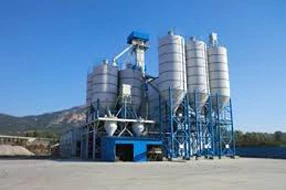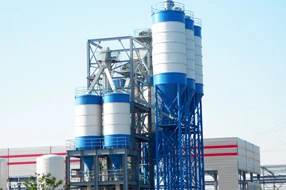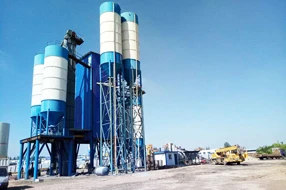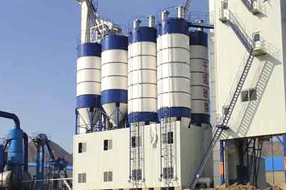 All production is operated by a central computer control system, with high accuracy of ingredients and flexible use. Additionally, The use of closed production system equipment makes the site clean and free of dust pollution.
2. Stair Type Dry Mortar Production Line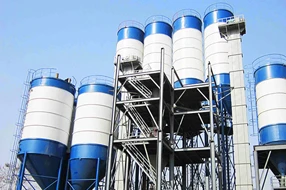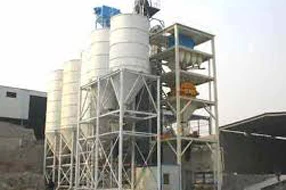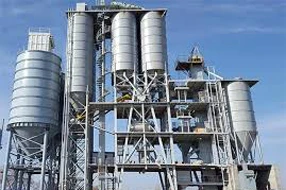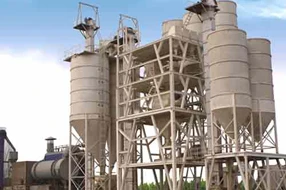 It has annual production varying from 250k tons to 450k tons. The main raw material storage bin and the mixer of it are in parallel. The raw materials like sand enter the mixer through the secondary lifting, and the upper part of the mixer only retains the relatively small amount of raw materials and additive storage bins, thereby reducing the height of the storage bin and greatly reducing the project investment. In addition, dust pollution is reduced by adding a dust collector.
3. Block Type and Flat Type Dry Mortar Plants
Other than the two common types above, there are also serval types available on market, such as block type and flat type. Our HSLZ series and HSZ series devices are products representative for block type and flat type respectively.
Which Type Of Equipment Would You Like?
How Does Dry Mortar Plant Work?
In brief, the main function of the mortar machine is to mix dried sand and other additives like cement, fly ash in a certain proportion and finally make masonry mortar, surface mortar, and floor mortar.
During the mixing process, under the movement of the spiral belt of the mixing shaft, the inner and outer spiral belts turn the raw materials in a larger range. The inner spiral belt moves the material to both sides, and the outer spiral belt moves the material inward from both sides to mix the material back and forth. The other part of the material is driven by the spiral belt to move in the axial and radial directions, thus forming a convection circulation. This kind of mixing makes the materials get fast and uniform mixing in a short time.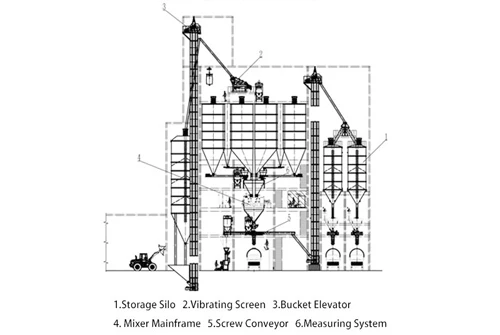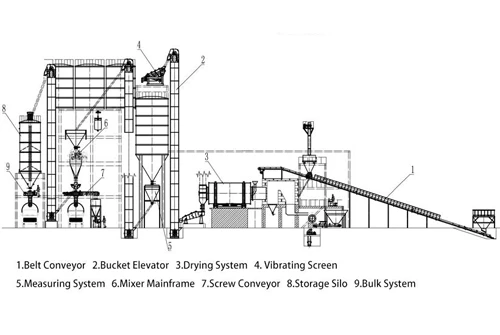 The finished product mixed in the dry powder mixer is quickly discharged by pneumatic quick opening and put into the finished product silo for buffering and storage. There is a flexible connection between the finished product silo and the packaging machine, and the packaging machine completes the measurement and packaging. For users with relatively large output, a belt conveyor can be added to directly transport the packaged finished product to the finished product area or truck.
Please Let Us Know If You Want To Learn More
Where to Buy The Best Dry Mix Mortar Machines At Reasonable Price?
Mortar processing stations do not actually require a large investment, but how to choose the trustworthy equipment manufacturer as a partner and where to buy the best production line at a competitive price are questions you should chew over repetitively. Whether your mortar mixing machine can enjoy a long service life is depended on the components and parts it uses and the cooperation between them.
Stability and durability are something you pursue other than the lower price. In addition, good operation experience and less possibility of trouble happening should be taken into account if one set of dry mortar production line enters your consideration scope. Different manufacturers usually represent different manufacturing techniques and quality control levels. LYROAD Machinery, a leading mortar equipment manufacturer in China, fully committed to eradicating all your concerns and provide you with high-quality mortar manufacturing equipment.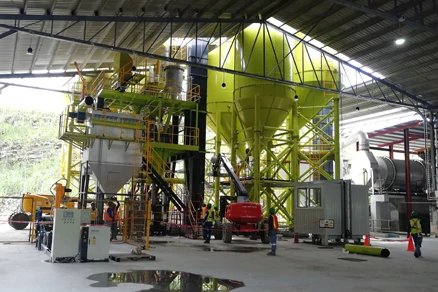 | | |
| --- | --- |
| Model | HSTL30C |
| Capacity | 30t/h |
| Wet Sand Feeding Hopper Volume | 5m³ |
| Variable Frequency Belt Conveyor Model | TD75-650-30M |
| Oil Tank Capacity | 5t |
| Dimension Of Combustion Chamber | 3500*2000*2000mm |
| Screen Mesh Size | 5mm |
| Dry Sand Storage Tank Capacity | 100t |
| Cement Storage Tank Capacity | 100t |
Make an Inquiry About The Same Model Of Mortar Machine
Our production lines for sale have been delivered to tens of countries, and our customers are satisfied with our outstanding product quality. Now our dry mortar manufacturing plants cover all four types discussed above. These types are all with complete product models, enabling our mortar plants for sale to meet various requirements. Besides quality, dry mortar plant price is also our competitive power. The best price is guaranteed if you opt for the equipment from us.
FAQs On The Final Mixed Materials And Related Equipment
1. What Is The Dry Mortar Manufacturing Process?
The whole process of dry-mixed mortar mainly involves 5 systems: raw material pretreatment system, metering central control system, mixing system, packaging system, and dust collection system.
2. What Happens If My Mortar Is Too Dry?
The most obvious problem with the dry mortar, if it is too dry, is a weak bond, which often causes a depression in the center when it is mounded. You can add chemical plasticizers or masonry cement to improve the workability of the mixture.
3. Can I Add Water To Drying Mortar?
Yes, but do not add water once the mortar begins to set after applied on the wall or something like that. To improve the workability of the mixture, what you can do alternatively add chemical plasticizers or masonry cement to it.
4. How Long Does It Take Dry Mortar to Harden Once It's Added By Water and Applied?
Until it can cure fully, mortar needs to be kept wet for around 36 hours. The specific time count is somewhat up to the weather and other external factors. e.g. High temperature could evaporate the moisture out of the mortar.
5. Does Mortar Shrink As It Dries?
The mortar shrinks and becomes hard after drying. It is less likely to crack if the consolidated mortar dries slowly, , but if you need to dry it faster to avoid damage, you can speed up the process.
6. What Are The Top Dry Mix Mortar Production Line Manufacturers?
It's a little hard to say. Those top asphalt plant manufacturers commonly also make dry mortar producing equipment, but their dry mortar machine price is too high to be cost-effective. LYROAD Machinery is one of the top dry mix mortar plant manufacturers in China.
7. What Is The Composition Of Dry Mortar?
Cementing materials, such as silicate cement, high alumina cement, calcium silicate cement, natural gypsum, lime, and mixtures of these materials; Fillers, such as yellow sand, quartz sand, limestone, dolomite, expanded perlite, etc.; Thick materials, such as mortar thickening powder; mineral admixtures, such as slag, fly ash, pozzolan, fine silica powder, etc.; Admixtures. The type and quantity of admixtures and the adaptability between admixtures are related to the quality and performance of dry mix mortar.