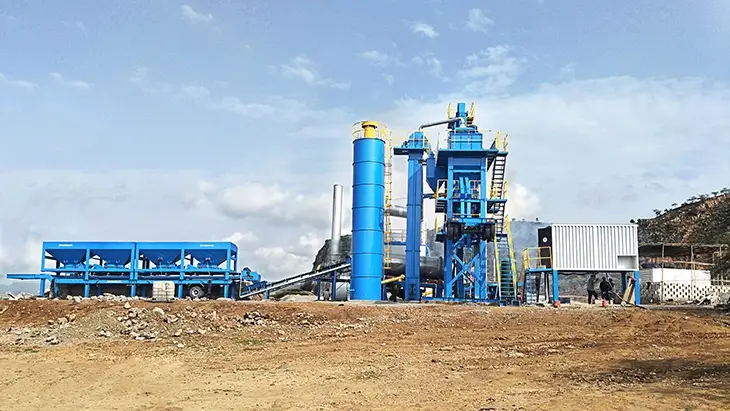 YLB Mobile Asphalt Plant
Model:

YLB700 ~ YLB2000

Product Capacity:

60 t/h ~ 160 t/h

Mixer Capacity:

700 kg/batch ~ 2000 kg/batch

Highlights:
Mobile plant,easy for installation, fast relocation;
Batch mix, precise screening, accurate weighing.
Get Price
Brief Introduction
YLB Series mobile asphalt mixing plant is developed, designed, manufactured and put on sale by LYROAD Machinery. It inherits the advantages of LB series asphalt batch mixing plant, and adds new elements including: containerized size, modular design and trailer and mobile chassis which make it possible for container transportation, fast mobilization and relocation.
YLB Asphalt Plant is designed for small and medium-sized pavement project which need frequent relocation. Complete plant can be dismantled and reinstalled in 5 days (not including the transportation period).
Parameter
Model
YLB700
YLB1000
YLB1500
YLB2000
Capacity
60 t/h
80 t/h
120 t/h
160 t/h
Mixer Capacity
700 kg/batch
1000 kg/batch
1500 kg/batch
2000 kg/batch
Fuel Consumption
Diesel consumption: 5.5-7 kg/ton
Weighing Precision
Hot aggregate: ±0.5%; bitumen: ±0.3%; filler: ±0.2%
Hot Asphalt Temperature
130℃-165℃ (adjustable)
Air Emissions
≤ 20 mg/Nm³
Working Noise
≤ 70 db(A)
Operation
Full Auto/Manual Operation
Installation Power
157 kW
241 kW
330 kW
412 kW
Voltage
220V/380V-50Hz (adjustable)
Plant Covering Area
Length
35 m
40 m
40 m
42 m
Width
26 m
28 m
32 m
32 m
Height
15 m
15 m
16 m
16 m
Documents
Lay-Out/ Electric Circuit Diagram; Chinese-English Operation Manual; Qualification Certificate.
Mobile Structure
Main Features
Drying System
1. Adopts four sets of famous powerful direct-connected gear motors to drive the drying drum;
2. Optimized blades make the drying process more balance with higher heat utilization rate;
3. Drying drum is covered by thermal insulation material and stainless steel skin to avoid heat loss;
4. Well calculated and carefully heat-treated drying drum, world-class bearings have a long service life and stable performance.
Dust Collecting System
1. Double dust collecting system, European emission standards;
2. Pulsating dust removal method, energy saving and efficient;
3. Durable key components;
4. Safety protection, intelligent inspection.
Vibrating Screen
1. Sturdy and durable, high intensity and remarkable screening effect;
2. Screen mesh easy to maintain and replace, time-saving;
3. Frequency and amplitude perfectly matched, over 95% grading precision, competent to any severe working situation, high-temperature resistance and excellent productivity;
4. Best design to guarantee the best screening result.
a. Adopts self-synchronizing driving technology, maintenance-free and environmental;
b. Patent enhanced drivable bridge structure design, tough and protective for screening components;
c. Famous vibrating motor.
Mixing System
1. Simulating optimization of material mixing movement speed;
2. Ensures each batch is totally and equally mixed with 25% mixing efficiency enhancement and 20% energy consumption reduction;
3. High productivity double-shaft mixer
Your inquiry will be replied within 24 hours.