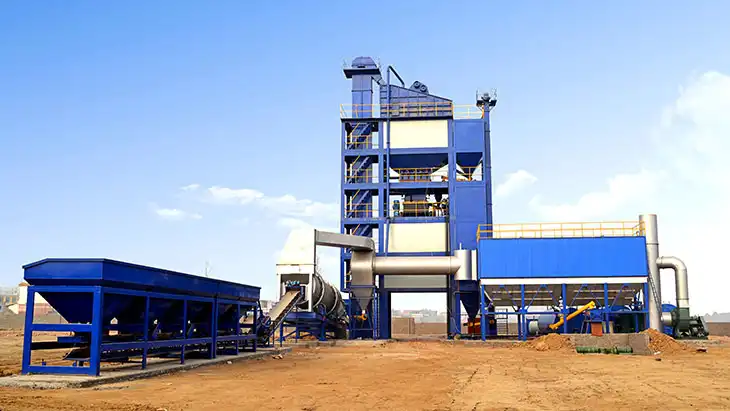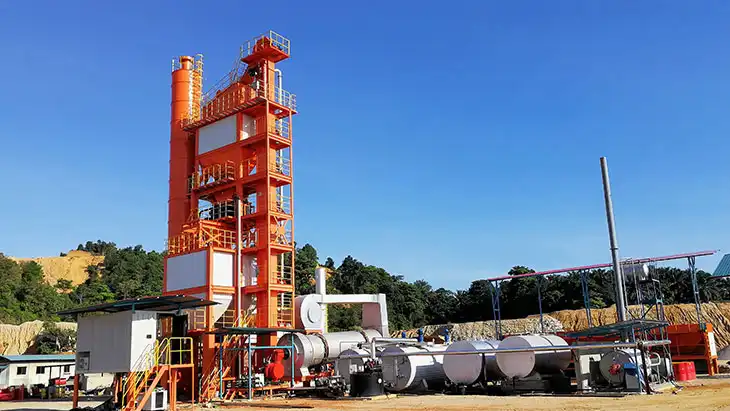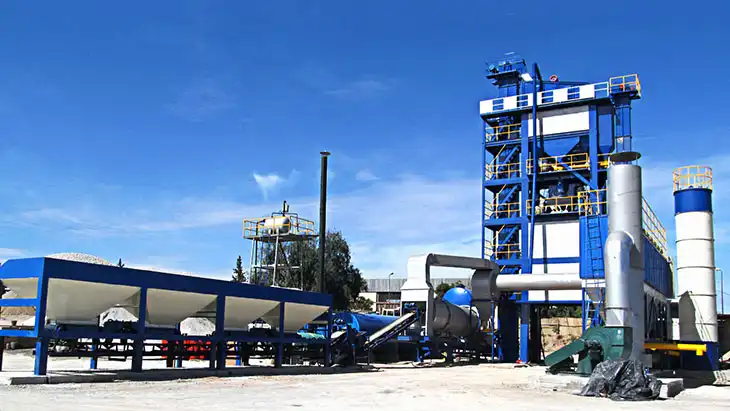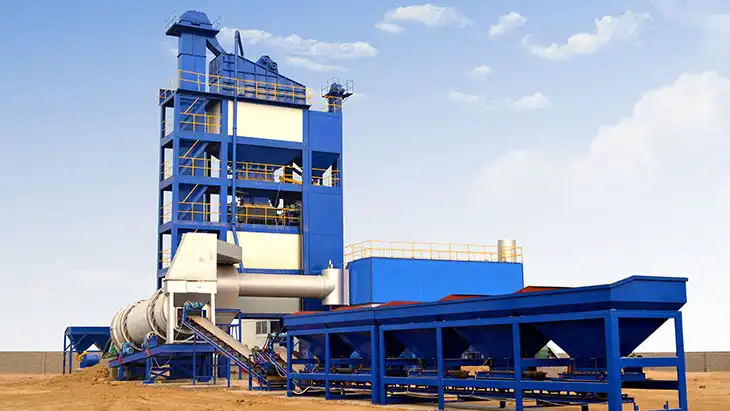 Asphalt Batch Mixing Plant
Asphalt Batch Mix Plant LB Series is new and ideal construction equipment used for manufacturing asphalt that is mainly applied in highway road construction and other civil construction. As a professional asphalt mixing plant manufacturer and exporter, Liaoyuan Machinery is good at producing products to clients according to their actual demands.
Model:

LB700 ~ LB5000
Product Capacity:

60 t/h ~ 400 t/h
Highlights:

Stationary plant, batch mixing, precise batching; Classic model, most cost-effective, best-selling.
Product Parameters
Model
Capacity(Standard Conditions)
Mixer Capacity
Dust Remove Effect
Total Power
Fuel Consumption
Measurement Accuracy
Fuel Oil
Fuel Coal
LB700
60t/h
750 kg
≤20 mg/Nm³
178kW
5.5-7 kg/t
10kg/t
Aggregate: ±0.5%
Filler: ±0.25%
Bitumen: ±0.25%
LB1000
80t/h
1000 kg
≤20 mg/Nm³
285kW
5.5-7 kg/t
10kg/t
LB1200
100t/h
1200 kg
≤20 mg/Nm³
316kW
5.5-7 kg/t
10kg/t
LB1500
120t/h
1500 kg
≤20 mg/Nm³
380kW
5.5-7 kg/t
10kg/t
LB2000
160t/h
2000 kg
≤20 mg/Nm³
470kW
5.5-7 kg/t
10kg/t
LB2500
200t/h
2500 kg
≤20 mg/Nm³
547kW
5.5-7 kg/t
10kg/t
LB3000
240t/h
3000 kg
≤20 mg/Nm³
700kW
5.5-7 kg/t
10kg/t
LB4000
300t/h
4000 kg
≤20 mg/Nm³
870kW
5.5-7 kg/t
10kg/t
LB5000
400t/h
5000 kg
≤20 mg/Nm³
960kW
5.5-7 kg/t
10kg/t
Advantages
Asphalt Batch Mix Plant is the most widely used asphalt plant. Asphalt batch mix plant LB series is also the most-saled asphalt plant of Liaoyuan Machinery. Advantges of asphalt batch mix plant are as following.

Modular Structure
Modular Structure, fit for container shipment, low shipment costs

Stable Performance
Batch Mix, finished asphalt is of good quality and steady performance

Versatile
Versatile, modified and colorful asphalt can be produced by adding dye, foam, fiber, modifier and other additives.

Clean
Two stage dust filtration system (cyclone dust collector + bag house dust collector), minimal dust emission.

Easy Operation
PLC control system, auto /manual operation, easy to operate, safe and reliable.

Retrofit
Long life span, convenient for maintenance. Asphalt batch mix plant can be retrofit or expanded.
Detailed Information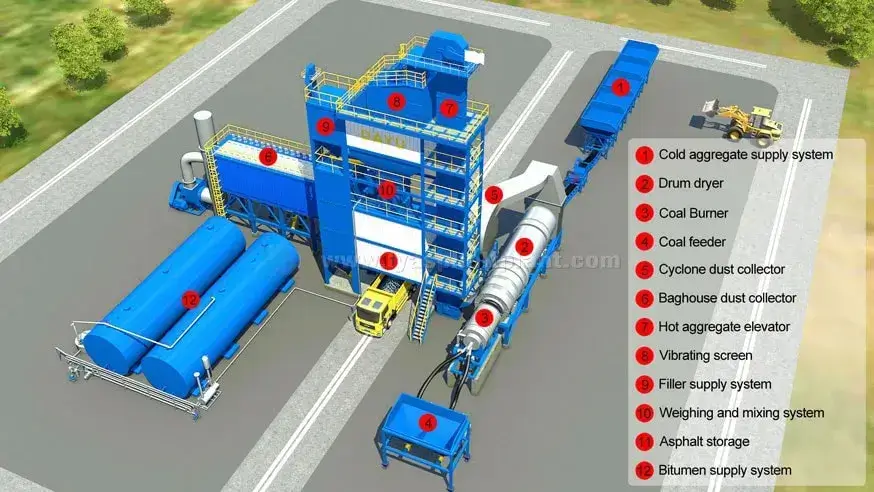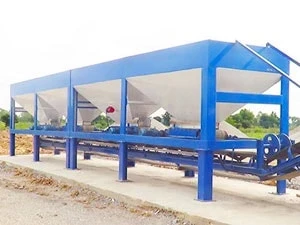 1. Aggregate supplying system
①. Protective plates on both sides of the aggregate hoppers to avoid sundries getting into the aggregates and conveying belt;
②. To make the supplying smoother, vibrators are equipped below each hopper;
③. Adds grid plate at top of each hopper to buffer the shock from aggregates flow, meanwhile it screens oversize aggregates;
④. Conveying belt is protected by dustproof cover to reduce dust emission;
⑤. Adds belt cleaners and pinch rollers to make the aggregates supplying more fluent and accurate, besides, they also extend the belt durability;
⑥. Small vibrating screen is added between belts, to further screen oversize aggregates;
⑦. The supplying system has insufficient material alarm system, ensuring a safe and smooth production.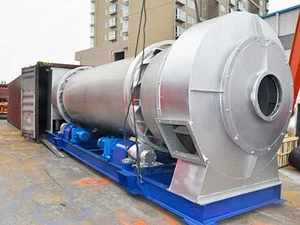 2. Drying system
①. Driving units have auto lubrication device, greatly reduces labor cost;
②. Different areas inside the drying drum have different blade configurations, which can handle aggregates in different processes;
③. The rolling rings and rollers are applying high strength wear-resisting material. Deviation preventing rollers for both rolling rings;
④. The cylinder adopts boiler steel and stainless steel skin, which gives it high temperature resistance and non-deformability;
⑤. The cylinder employs thermal insulating rock wool material that can maintain the temperature inside, reducing heat loss.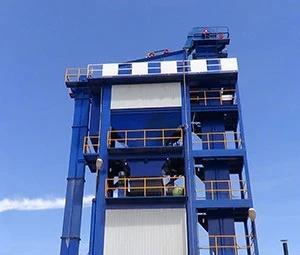 3. Aggregates elevating system
①. The aggregates elevator takes modular design with newest dust sealing structure;
②. Elevator applies double plate link chains design, which extends the elevator's service life and reduces maintain frequency.
③. Excellent leakproofness with the moters;
④. Applies famous cycloidal pin gear speed reducers, more powerful and reliable;
⑤. The aggregates slide tunnel adopts damping structure wear-resisting plate link chains to enhance the performance.
4. Screening system
①. Vibrating screens that apply world famous vibration motors are completely sealed;
②. Aggregate storage bin adopts large bin structure to avoid material overflow;
③. Aggregate bins are separated by high strength wear-resisting plate to avoid aggregates mixing.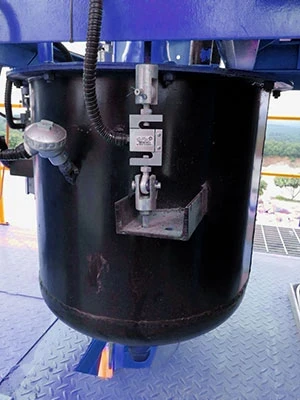 5. Weighing system
Adopts world famous brand (TOLEDO) weighing component, to make sure that the measurement error of aggregates is below 0.5%, and the measurement error of bitumen and filler is below 0.25%.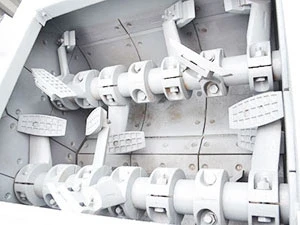 6. Mixing system
①. The mixer, mixing blades and liner plates are all using the best materials with high hardness and high abrasion performance;
②. The cycloidal pin gear speed reducer has better transmission efficiency and simpler structure.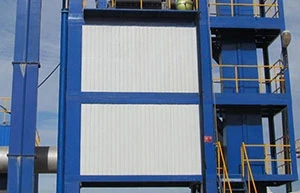 7. Finished product storage system
①. The storage silo has heating device to keep asphalt temperature and quality;
②. The silo has anti-blocking device to keep asphalt quality.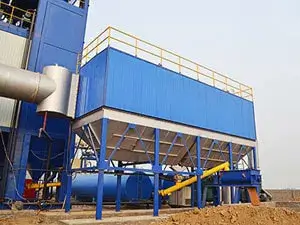 8. Dust collecting system
①. Double dust collecting systems, including the primary volute dust collector that gets rid of large size dust and secondary baghouse collector that further get rid of the rest dust;
②. Adopts famous brand draught fan, high efficiency against low power rate.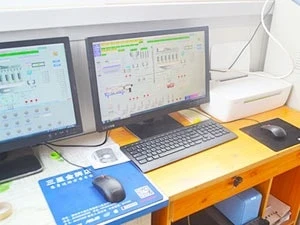 9. Control system
①. Fancy control room for operator, nice operating environment and good sound insulation effect;
②. Control room is equipped with split-type air conditioner, aluminium alloy sliding windows, wood floor and so on;
③. All operations are integrated in one room, auto and semi-auto control makes it easy to operate.