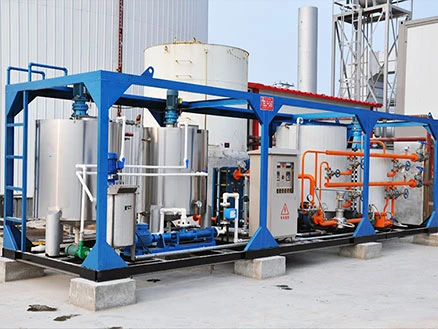 Modified Bitumen Plant
Model:

GLS15 ~ GLS30

Product Capacity:

15 t/h ~ 30 t/h

Highlights:
Multifuctional, intelligent control;
SBS, PE, EVA and other polymer modified bitumen.
Get Price
Brief Introduction
GLS series multi-purpose modified bitumen plant is designed to produce SBS, EVA, PE and other polymer modified bitumen. Roads built with polymer modified asphalt have longer service life, bigger resistance to heavy traffic load, increased skid resistance and ultra violet resistance, enhanced safety and comfort levels. GLS series modified bitumen equipment is an ideal device for surface pavement of trunk road, urban road, highway, bridge and airport.
Working Process
1st Step: The hot bitumen is pumped into agitated tank at the required temperature(usually around 180ºC).
2nd Step: Thermo-plastic rubber is added to the agitated tank, and stirred for equal distribution.
3rd Step: The mixture of both is passed through the mill to physically reduce the thermo-plastic rubber particles in size by mechanical shear, being accompanied by a significant input of heat energy.
4th Step: Once the desired mixture is obtained, the polymer is pumped into modified bitumen stock tanks.
Model and Parameter
Model
GLS15
GLS20
GLS20C
GLS30
Max. productivity
15t/h
20t/h
20t/h
30t/h
Modifier finess
<5μm
<5μm
<5μm
<5μm
Weighing accuracy
±0.5%
±0.5%
±0.5%
±0.5%
Heat transfer oil
furnace capacity
800,000
kcal/h
800,000
kcal/h
800,000
kcal/h
1,200,000
kcal/h
Installed power
245kW
265kW
145kW
305kW
Weight
42,000kg
42,000kg
30,000kg
51,000kg
Overall Dimension
L*W*H (mm)
12350*2800*3100
12350*2800*3100
9700*2800*3100
13000*2800*3100
Note: GLS20-C is containerized structure.
Main Features
1. Compact and integrated structure, skid-mounted, easy for transportation and relocation.
2. Wide adaptability, it can produce SBS, EVA, PE and other polymer modified bitumen.
3. The plant adopts high-performance colloid mill, particle size after first shear and mill reaches 2-5μm; ensuring fine, homogeneous, stable and high quality modified bitumen.
4. Electronic weighing system, decrement measurement; ensuring high weighing precision and accurate material proportion.
5. Optimized heating system, blending system and piping system, saving energy cost, improving modified bitumen production rate.
6. Automatic control system, equipped with control panel,easy to operate, saving labour, safe and efficient.
Structure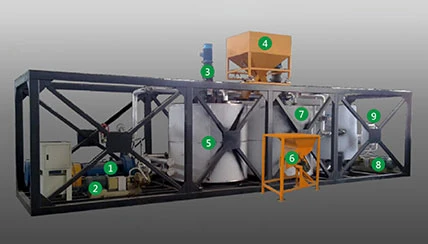 1.Colloid mill
2.Pump
3.Agitator
4.Weighing hooper
5.Reaction tank
6.Modifier Crusher
7.Mixing Tank
8.Bitumen pump
9.Bitumen filter
Your inquiry will be replied within 24 hours.