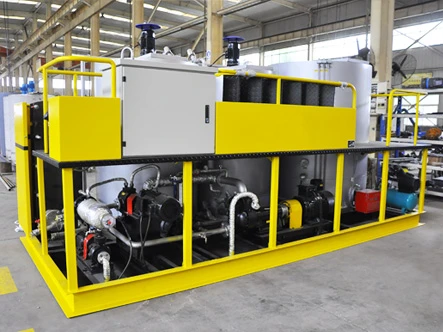 Bitumen Emulsion Plant
Bitumen emulsion plants are equipment specially used to produce emulsified bitumen by melting bitumen and dispersing resulting fine particles in water. They are widely applied in road-building projects. Bitumen emusion, the final product of emulsified asphalt plants, has a wider range of application scenes, like housetop waterproofing, pavement maintenance, and so.
Model:

LR6~LR10; GLR6~GLR10

Product Capacity:

4 t/h ~ 10 t/h

Emulsion Fineness:

1μm~5μm
Get Price
Brief Introduction
You do need a proper bitumen emulsion equipment (also called asphalt emulsion plant) if you are seeking the emulsified binders for waterproofing, asphalt road surfacing as well as road building. All of these are great applications that require asphalt emulsion. You can use it to produce it at any given time if you have one.
Bitumen emulsion is widely used in road construction and maintenance:
1. New road construction: prime coat, adhesive coat and seal coat;
2. road maintenance: fog seal, slurry seal, micro surfacing treatment, chip seal, ultra thin wearing layer, pothole rehabilitation and etc.;
3. Road pavement recycling: cold in-place recycling asphalt.
LR /GLR series developed by Liaoyuan Machinery is an ideal equipment for bitumen emulsion production.
Model and Parameter
Model
LR-6
LR-10
GLR-6
GLR-10
Main function
Common bitumen emulsion
Common & Modified bitumen emulsion
Capacity (t/h)
4~6
6~10
6
10
Emulsion fineness
1~5μm takes up 85%
2~5μm
Overall size (m)
6 x 2.1 x 2.3
6 x 2.2 x 2.3
6 x 2.2 x 2.53
6 x 2.1 x 2.35
Heating method
Heated by hot oil
Water tank capacity(m³)
2.5
7
3
4.5
Preparation tank capacity(m³)
1.2 x 2
1.4 x 2
1.2 x 2
1.4 x 2
Bitumen pump capacity(m³)
3
8
4
10
Installed power(kW)
28
44
32
42
Power requirement
380V 50Hz (or as required)
Hot oil temperature (℃)
200~250
Heat exchange area(㎡)
8.32
12.17
7.15
8.32
Hot oil tank capacity
0.11(m³) or 100kg
0.13(m³) or 120kg
0.10(m³) or 85kg
0.11(m³) or 100kg
Temperature measuring range
0~150℃
Temperature measuring error
<1℃
Main Features
1. Bitumen pump, soap pump and dosage pump (for emulsifier supply and measurement) are all driven by variable frequency motors, high precision in weighing and dosage.
2. Adopting international famous colloid mill, producing homologous, stable and reliable asphalt emulsion; clearance between rotor and stator of the colloid mill is adjustable, the min. particle size is 1μm, fit for both common and modified bitumen emulsion production.
3. Two preparation tanks take turn to produce diluted emulsifier solution, ensuring continuous production.
4. Pipes, valves and tanks and other main components are all made by corrosion resistant material, longer service life.
5. PLC control system, supporting automatic and manual operation, easy to operate and 1 operator is enough.
6. The whole equipment is a integrated structure and can be put into container, quite easy for transportation and relocation.
Working Flow
Detailed Information
1. Clear water system
It comprises water tank, water pump, pipeline, etc.
2. Emulsion system
It is made up of emulsion tank AB, flowmeter, emulsion pump, regulating valve, etc.
3. Bitumen Supply System
It is composed of bitumen tank, bitumen pump, bitumen pipeline, etc.
4. Emulsified bitumen System
It consists of emulsifier, sampling valve, heat exchanger, etc.
5. Heat Exchange System
It comprises heat exchanger, emulsified bitumen discharge pipeline, submersible pump (or sewage pump), cooling water inlet and outlet pipeline.
6. Heat Conducting Oil System
It is a closed-circuit system with automatic temperature control. Under the action of the heat conducting oil pump, the heat conducting oil heates the parts that need to be heated, and finally returns to the heat conducting oil pump.
7. Electrical Control System
It includes two control systems: manual control and automatic control.
8. Additive System (Optional)
9. Pneumatic control system (Optional)
It uses air compressor as power source and controls five pneumatic valves (normally closed) to open and close through five solenoid valves, which facilitates the opening and closing of water injection and drainage pipelines.
Main Application
LR Series Bitumen Emulsifying Machine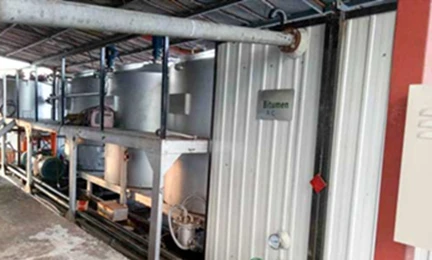 GLR Series Emulsified Asphalt Facility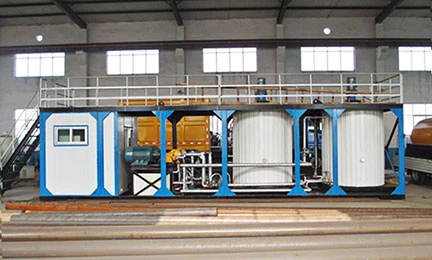 Chip sealing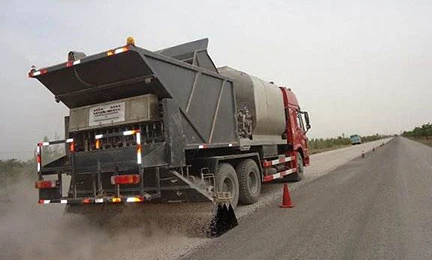 Slurry sealing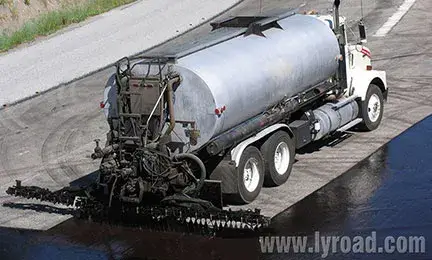 Your inquiry will be replied within 24 hours.