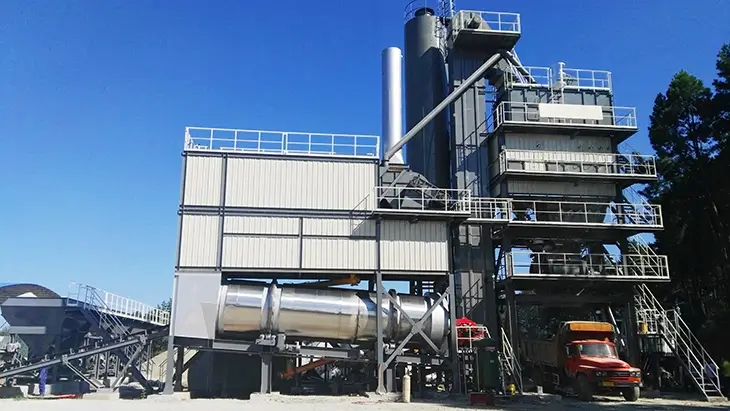 ALB Advanced Stationary Asphalt Plant
ALB series advanced asphalt mixing plants are developed by our company in combination with advanced technology at home and abroad, which can be used to produce asphalt gravel, asphalt concrete, asphalt sand, modified asphalt mixture, and other materials.
Model:

ALB700 ~ ALB5000

Capacity:

60t/h ~ 400t/h

Highlights:


Batch mix, European style, European standard, Cost-effective, Durable components, Energy-saving
Get Price
Parameters
Model
ALB700
ALB1000
ALB1200
ALB1500
ALB2000
ALB3000
ALB4000
ALB5000
Capacity (t/h)
60
80
100
120
160
240
320
400
Mixer(kg/batch)
700
1000
1200
1500
2000
3000
4000
5000
Storage Bins(m³)
4×8
4×10
4×10
4×12
5×14
5×18
6×18
6×22
Drying Drum (mm)
Ф1570
×6500
Ф1750
×7000
Ф1750
×7000
Ф1950
×8000
Ф2250
×9000
Ф2500
×12000
Ф3000
×13000
Ф3500
×14000
Induced Draft Fan (kw)
30
55
75
75
110
160
220
300
Hot Aggregate Storage Hopper(m³)
13
15
20
25
40
50
75
90
Hot Aggregate Weighing Hopper (kg)
800
1250
1500
1750
2250
3250
4500
5500
Bitumen Weighing Hopper (kg)
150
200
200
300
300
450
600
800
Filler Weighing Hopper (kg)
150
200
200
300
300
450
600
800
Thermal Oil Heating System
From 100 000 to1 300 000 kcal / h
Filler Bin(m³)
By Agreement (Option)
Dust Bin(m³)
By Agreement (Option)
Bitumen Tank
By Agreement (Option)
Asphalt Batching Plant Components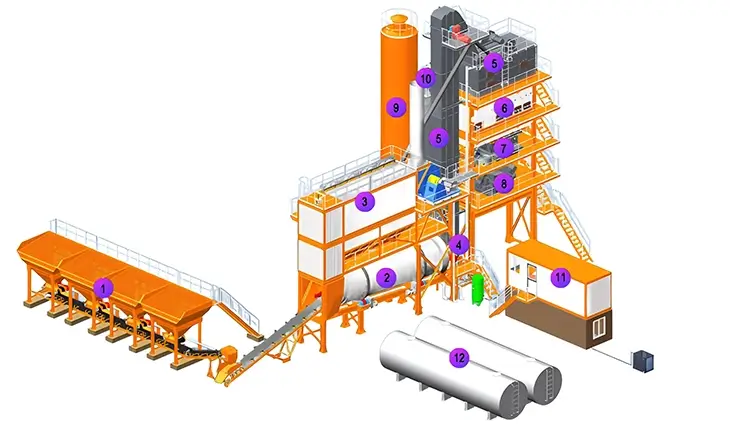 1. Cold aggregate feeding system; 2. Inclined belt conveyor; 3. Drying system (drying drum + burner); 4. Dust filtration system; 5. Hot aggregate clevator; 6. Vibrating screen; 7. Hot aggregate bin; 8. Mixer and weighing system; 9. Hot asphalt silo; 10. Filler supply system; 11. Bitumen storage and supply system; 12. Control system and operator's cabin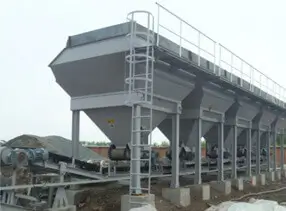 1. Aggregate Supplying System
① Modular structure, with catwalk and ladder.
② Cold aggregate feeding rate can be adjusted by inverter.
③ Belt conveyors with protection devices, including emergency stop carrying roller, anti-reverse carrying roller, sidewall belt.
④ Auto compensation system, aggregate shortage alarming device.
⑤ Each cold aggregate bin is equipped with screen mesh to filter oversized aggregate.
⑥ Vibrators are installed on fine aggregate bins.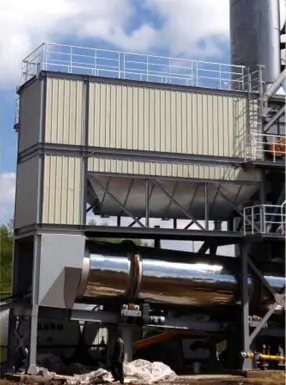 2. Drying Drum & Dust Filtration System
Drying Drum:
① Efficient dust filtration system, drying drum connected with baghouse filter, shortening dust filtration distance, improving dust filtration effect.
② Drying drum is made of wear and temperature resistant material, sturdy and durable.
③ Transmission devices are in close contact with drying drum.
④ Drying drum has thermal insulation layer (50mm thick, made of rock wool) and protection cover (made by stainless steel).
⑤ Transmission devices include motor with inverter, vibration resistant device, and lubricating system.
⑥ Temperature sensor is installed on the discharge gate of drying drum.
Dust Filtration System:
① Two stage dust filtration system: gravitational and baghouse dust filter.
② Gravitational filter is in front of baghouse dust filter.
③ Baghouse filter uses NOEMX bags, and have thermal insulation layer (50mm, rock wool).
④ Pulse jet dust filtration.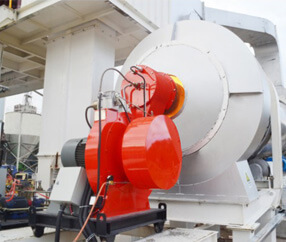 3. Burner
① Automatic burner, powerful fire power, low noise, energy saving, easy operation.
② Fuel: diesel, coal, heavy oil or natural gas.(It's recommended to utilize the fuel that you can get easily)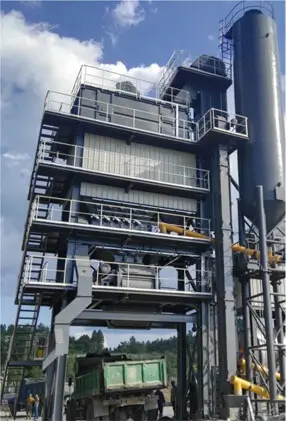 4. Mixing Tower
Vibrating Screen
① Vibrating screen with optimized structure, high efficiency, low power consumption.
② Each vibration deck consists of two halves, convenient for replacement and maintenance.
Weighing System
① Hot aggregate bins are equipped with level indicator.
② Scarp discharge pipe and overflow pipe are installed on mixing tower.
③ Weighing system includes weighing sensor (load cell), signal is directly transmitted to control computer; weighing system has auto compensation function.
④ Load cell: FLINTEC from Germany.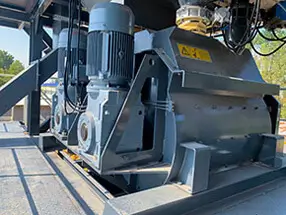 5. Mixer
① Mixing arm, paddle and liner are made of wear resistant material.
② Twin-shaft mixer are driven by synchronous motors, 3D mixing and blending inside the mixer, better mixing performance.
③ Bearing: SKF from Switzerland.
④ Catwalk and ladder on mixing tower made by hot galvanized material.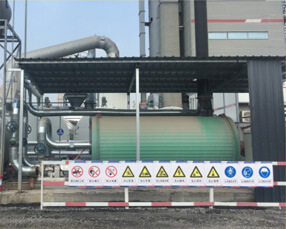 6. Bitumen Storage & Supply System
① Thermal oil heater: temperature of bitumen is automatically controlled and adjustable.
② Temperature sensor and liquid level sensor are installed.
③ Bitumen tanks with all necessary pipes, valves and pumps.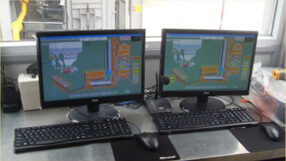 7. Control System
① Monitoring the control structure and monitoring the process (temperature, pressure, frequency, etc.)
② Control mode: automatic or manual; Industrial computer.
③ Language: English, Chinese; You can switch languages at any time.
④ Electronics: SIEMENS.
Related Equipment
Recommended Articles
Your inquiry will be replied within 24 hours.