Bitumen Decanter for Sale
LYroad Machinery, top bitumen decanter, bitumen drum decanter manufacturer and supplier in China, drummed/bagged/block bitumen decanter for sale, 4-10tph, best price. All these products are with CE and EAC certificate, meanwhile 12 month warranty is given to all our bitumen decanters. So far, we have exported a number of bitumen decanters to many countries, such as Indonesia, Sudan, Myanmar, Chad, Mali, Bangladesh, Sri Lanka, Nigeria, Kenya, Ethiopia, etc. They are becoming more and more popular overseas.
It is often not possible to get liquid bitumen at construction sites and it also becomes difficult for you to regularly get it. Bitumen decanters for sale is designed to heat and melt bitumen that comes in barrels and bags. It's a perfect solution that makes sense when you want to get liquid bitumen. Our decanters fall into drummed bitumen decanter and bagged bitumen decanter, all featuring high efficiency, reliable performance, large output, longer service life, and can absolutely satisfy your requirements.
DT Series Drummed Bitumen Decanter - High Flexibility, High Adaptability
---
---
---
Characteristics
Use hot exhaust gas (over 300℃) of burner and hot oil pipes to heat and melt bitumen simultaneously, saving energy and reducing working cost.
The melting chamber and hot oil furnace adopt integrated structure, occupy area is small, and easy to transport.
With turn over barrel unit, save manpower, higher working efficiency.
Closed-construction and no pollution, friendly for environment.
With automatic temperature & automatic bitumen level meter control system, make sure they work reliably.
Modular integrated design, compact containerized structure, convenient and low-cost for sea shipping.
Easy to installation, no need foundation.
Use Italy brand burner, higher and more reliable performance.
Easy to assembly and maintain.
YDT Series Drummed Bitumen Decanter - Excellent Structure, Easy to Operate
---
---
---
Characteristics
Use both burning air and oil heating pipe to melt the bitumen, more beneficial for clients.
Thermal oil furnace inside the melting Chamber, small, flexible and easy to operate.
It can turn over the barrel itself, saving labor.
Well protected and sealed, environmentally friendly.
So smart, thanks to auto temp-control and bitumen leveling system.
Excellent structure, Low requirement and cost on the transportation.
Famous burner brand makes it more trustworthy.
High performance, longer service life.
Install it anywhere you want, leave your excavator away, it's very simple.
Bitumen Decanting Process
Step1:

Drummed or bagged bitumen has to be inserted into the decanter with the barrels being made holes on their cover. They then will be moved onto turnover device by arms that are hydraulically operated or the electrical hoist on the beam of gantry crane. Three or more rows of bitumen barrels get inside the heating zone, depending on the capacity of the bitumen drum decanter.

Step2:

Surrounding the barrels is a network of pipelines that carry thermal oil. Heat transfer oil and hot emission air work together to heat the bitumen barrels. When bitumen become melted, it drops down to a melted bitumen pool.

Step3:

Bitumen pump starts and pumps the liquid bitumen into waiting trucks or into another bitumen tanks.
Tips:
It usually takes approximately 60-70 minutes for bagged bitumen decanting machine to output the whole batch, then you have to place another batch of bags containing solid bitumen into the melting chamber from the top of it. Bitumen drum decanters for sale from us adopt continuous melting technology. When all the bitumen falls off the barrels, you can refill other barrels into the melting chamber regardless of whether the melted bitumen pool is empty.
Components of Bitumen Decanter
Our bitumen drum decanters are perfectly designed so that they are maintenance free and require little attention. Anybody can operate them without much training. Some main components of bitumen decanting machine are described as below.
Melting Chamber
Melting chamber is fully enclosed by glass wool. Upper part holds bitumen barrels for heating, while Lower part is a melted bitumen pool.
Electrical Hoists or Hydraulic arms
Whatever they are, they will help in pushing the barrels into the melting chamber.
Thermal Oil Heater
Thermal oil is heated by the thermal oil heater and then circulate into the melting chamber, transferring heat to melt solid bitumen.
Pipelines
Seamless pipelines carry the thermal oil from the heater to the heating unit.
Exporting Cases of Our Bitumen Decanter
1. YDT-8 Bagged Bitumen Decanter Loaded On the Transport Vehicle and Left for Zambia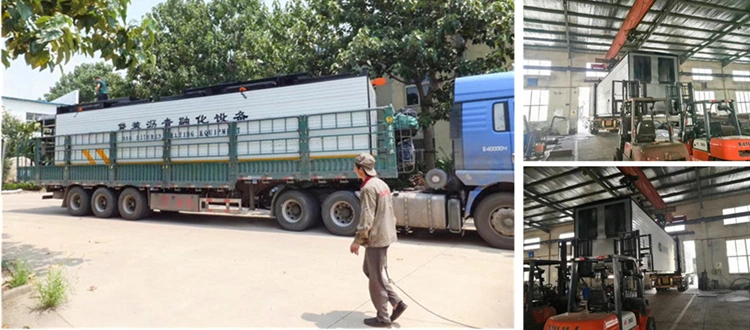 2. DT-6 Drummed Bitumen Decanter Will Be Sent to Indonesia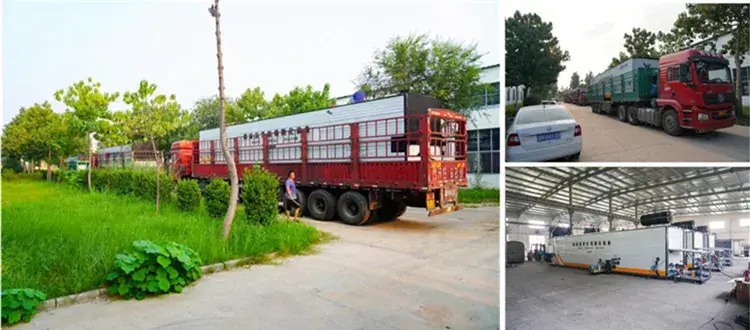 3. DT-8 Bagged Bitumen Decanter Shipped to Uganda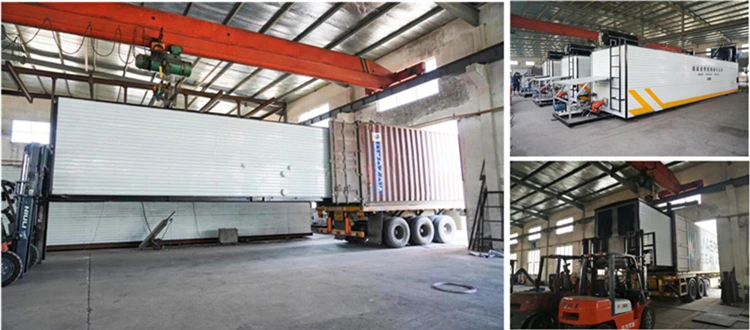 4. YDT-8 Bitumen Decanting Machine Ready to Run Towards Central African Republic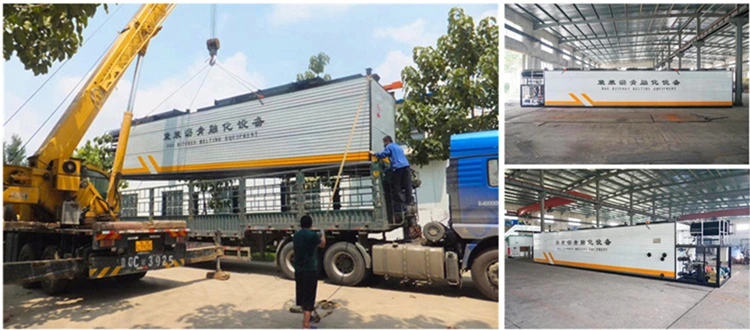 5. DT-4 Drummed Bitumen Decanter Left Factory For Uzbekistan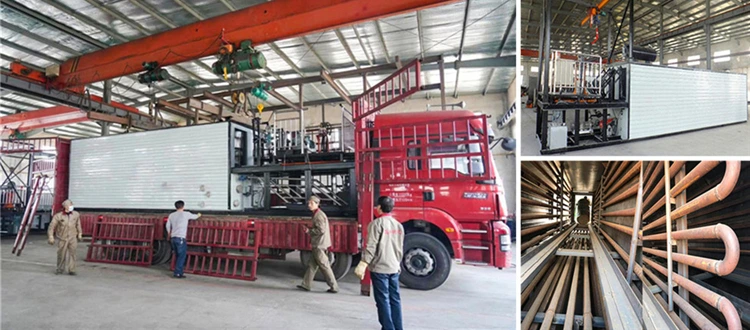 It's not just those countries, our bitumen decanters also show their presence in countries like Myanmar, Nigeria, Namibia, Bangladesh, Tanzania, Zambia, Mozambique, Mongolia,etc. Such reliable products from the most trustworthy manufacturer and supplier with a competitive price have become increasingly salable worldwide. Once you trigger a quotation or a inquiry about our products, you would enjoy our considerate and thoughtful customer service. We are always here, 24*7, ready to satisfy your needs whenever possible.
Your inquiry will be replied within 24 hours.