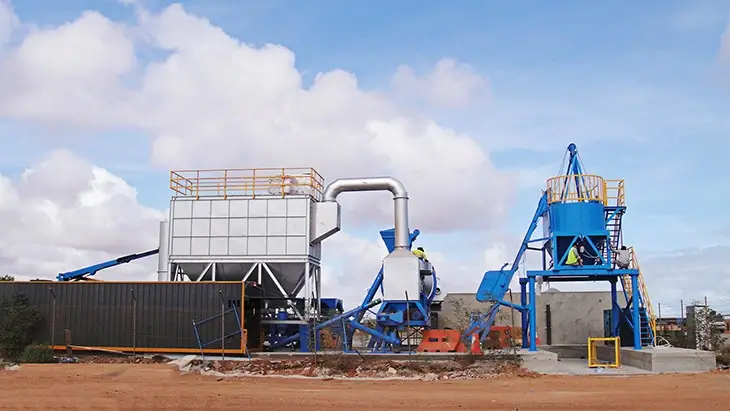 SLB series is mobile, continuous asphalt mixing plant; it is the smallest of all asphalt plants made by LYROAD Machinery. SLB series is featured by small size, compact structure, ease of relocation and operation. The output of SLB seires varies from 8~30t/h, suitable for road maintenance project and small-sized road construction project.
Model
SLB-8
SLB -10
SLB -15
SLB -20
SLB -30
Capacity
8t/h
10t/h
15t/h
20t/h
30t/h
Total Power
Fuel Oil
23.7 kW
24.3 kW
33 kW
46.5 kW
60 kW
Fuel Coal
40 kW
41 kW
54 kW
70 kW
90.3 kW
Asphalt Temperature
120-180°C (adjustable)
Fuel Consumption
Fuel Oil: 5-7.5 kg/t; Fuel Coal: 13-15 kg/t
Optional Components
Water dust collector, Baghouse dust collector, Control room, Bitumen heating tank
1. Low initial investment, cost-effective, suitable for small-sized road construction / maintenance project;
2. Drying drum and mixing drum connects each other, less heat loss and fast mixing;
3. Modular structure with mobile chassis, ease of transportation and relocaion;
4. PLC control system, allow manual /auto /semi-auto operation mode;
5. Stable and reliable, ease of maintenance.
Your inquiry will be replied within 24 hours.