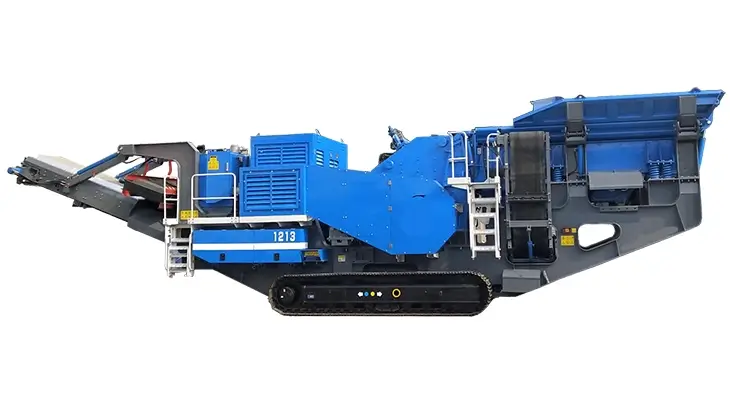 Mobile Crawler Impact Crusher
Model:

AMI1210 ~ AMI1214-B

Product Capacity:

80t/h ~ 300t/h

Significant Highlights:
1. Modular Design
2. Intelligent Control
3. High Mobility and Cost-effectiveness
Get Price
Brief Introduction
AMI series mobile impact crusher plant is featured by sturdy structure, high fatigue resistance, and excellent impact resistance. it is suited to be used for secondary crushing of soft and medium-hard natural stone and construction waste.
AMI series mobile crawler impact crusher plant applies the currently world-leading impact crusher. Overall structure, materials selected, manufacturing process, assembly methods, and other aspects of the plants have been specially optimized or designed, enabling it to enjoy many unpreparable advantages, such as distinctive structure, reliable operation, large production capacity, and small output grain size, etc.It's ideal for secondary crushing of rocks with high hardness and abrasion.
Workshop for Mobile Crawler Impact Crusher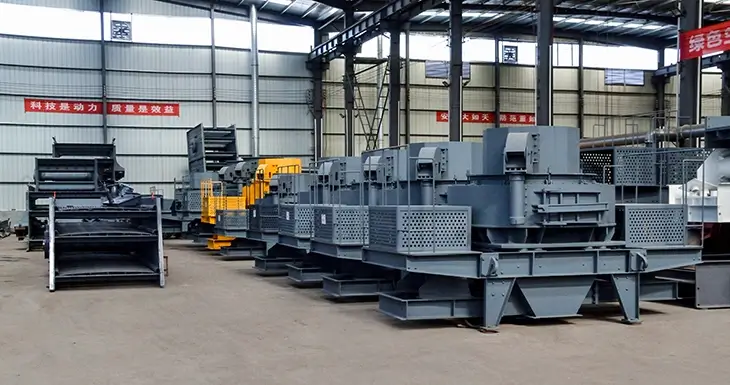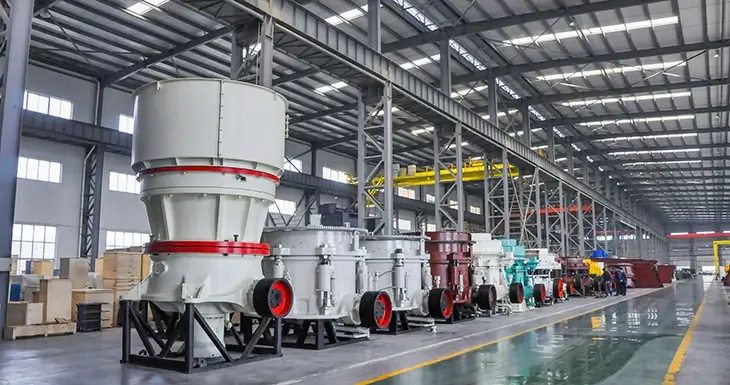 Product Parameters
Model
AMI1210
AMI1214
AMI1214-B
Feeding Unit
Max. Feed Size(mm)
700
600
600
Feed Height(mm)
3850
3600
3600
Hopper Volume(m³)
6
5
5
Vibrating Feeder
Length×Width(mm)
3900×1220
3650×1300
3650×1300
Power(kW)
3.7kW×2
3.0kW×2
3.0kW×2
Capacity(t/h)
500
400
400
Crusher
Impact Crusher Model
250I
150I
150I
Crusher Inlet Length×Width(mm)
1360×930
1300×800
1300×800
Max. Feed Size(mm)
700
600
600
Rotor Size (mm)
Φ1240×1270
Φ920×1200
Φ920×1200
Rotor Rotate Speed (rpm)
700
700
700
Weight(t)
18
15
15
Power(kW)
250
160
160
Main Belt Conveyor
Height(mm)
3250
3200
3200
Length×Width(mm)
11000×B1200
9000×B1000
9000×B1000
Power(kW)
15
11
11
Return Screen
Length×Width(mm)
/
2500×1500
2600×1500
Power(kW)
/
3.7kw×2
3.7kw×2
Transition Belt Conveyor
Length×Width(mm)
/
2000×B650
2000×B650
Power(kW)
/
3
3
Transition Belt Conveyor A/B
Length×Width(mm)
/
/
2000×B500
Power(kW)
/
/
3
Side Belt Conveyor
Length×Width(mm)
/
/
6000×B650
Power(kW)
/
/
5.5
Return Belt Conveyor
Length×Width(mm)
/
8900×B650
8900×B650
Power(kW)
/
4
4
End-Product Belt Conveyor
Length×Width(mm)
/
6000×B1000
6000×B1000
Power(kW)
/
7.5
7.5
Iron Separator
Length×Width(mm)
/
1670×800
1670×800
Power(kW)
/
3
3
Tail Belt Conveyor
Length×Width(mm)
3200×B500
3200×B500
3200×B500
Power(kW)
3
3
3
Entire Machine
Engine Power(kW)
118
85
85
Engine Model
Cummins
Cummins
Cummins
Total Weight(t)
45.3
35
38
Processing Capacity(t/h)
150-300
80-200
80-200
Transport Dimensions(L×W×H)
17×3.7×3.8
15.7×3.7×3.5
16.4×3.7×3.5
Operation Dimensions(L×W×H)
17×3.5×3.8
15.7×4.1×4.2
16.4×7.5×4.2
Total Installed Power(kW)
276
205
214
Description
1. The processing capacity of the crusher is related to stone hardness, feed grain size, and discharge grain size.
2. Standard configuration: manual control, wireless remote control.
3. Optional: return system, foldable side conveyor belt, iron seperator, dust-removal spraying system, belt conveyor hood, pre-screening system.
Main Features
1. Modular design, sturdy structure, higher fatigue resistance and stronger impact resistance.
2. The crusher case can be turned over for easier maintenance; Square handle bolts are employed to make the equipment more impact-resistant and wear-resistant.
3. Large feed opening, high crushing chamber, suitable for crushing high hardness and large block materials. Power consumption upon crushing suspended materials is much lower.
4. Well-designed hammerhead boasts a large impact force. Hammer shafts are adjustable, leading to a long service life of the hammerhead.
5. The grid size is adjustable, and the product particle size is accordingly controllable. Moreover, the product particles are output in good shape.
6. It comes with comprehensive crushing function, including impact, impact, collision (stones hitting each other), achieving high production efficiency, low wear of machine parts, and significant comprehensive benefits.
7. It adopts an intelligent wireless remote control device and walks on its own crawler. It can be operated by a single person remotely to get on and off the ordinary flatbed trailer to realize rapid relocation.
8. Word famous key devices are employed, Strickland track, Bonfiglioli /Brevini/Eaton drive motor, Cummins diesel engine, Schneider electrical elements, Eaton hydraulic plunger pump, Eaton hydraulic motor on belt conveyor and feeder, Omron remote controller, etc. Performance, service life and value of the crusher is guaranteed.
9. The pre-screening system can be chosen to mount and make screening function more comprehensive and excellent.
Main Components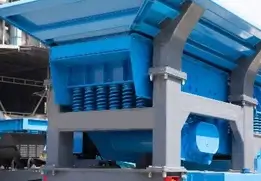 1. Feeding Unit
①Foldable.
②Self-locking.
③Simple and fast loading.
④Safe initial operation.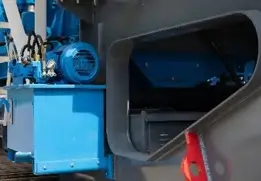 2. Manhole
①Easy to observe and operate for all components.
②Easy to maintain and clean.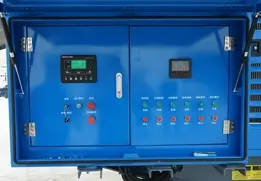 3. Control System
①Fast fault diagnosis.
②Convenient and intuitive operation.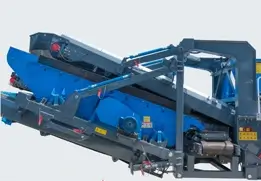 4. Return Screen
Bring oversized grains back to the feeding unit and make them crushed again.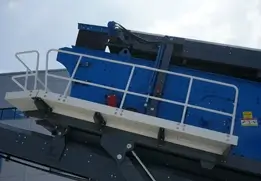 5. Maintenance Platform
A platform is provided to help gain access to the crusher and the powerpack, and do inspection and maintenance work.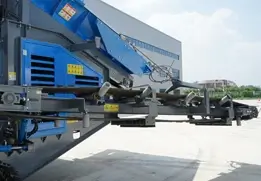 6. Belt Conveyor
Integrated belt conveyor, folding, hydraulic control.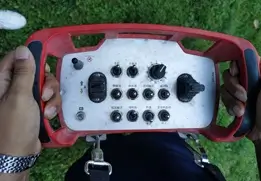 7. Remote Controller
All components and functions can be controlled easily via this hand-hold remote controller.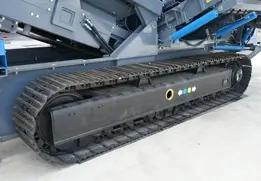 8. STRICKLAND Track
①British STRICKLAND track.
②Sturdy, stable and durable.
③Allow equipment to move flexibly at the jobsite.
Construction Case
Your inquiry will be replied within 24 hours.