Bauma Munich 2019 was grandly opened in Germany on April 8th. Being held for 32 sessions, Bauma Munich has long been a top exhibition of global construction machinery industry. All of well-known construction machinery manufacturers all over the world brought their most advanced and cutting-edge products to the world stage, competing to show their technological innovation strength within the five days.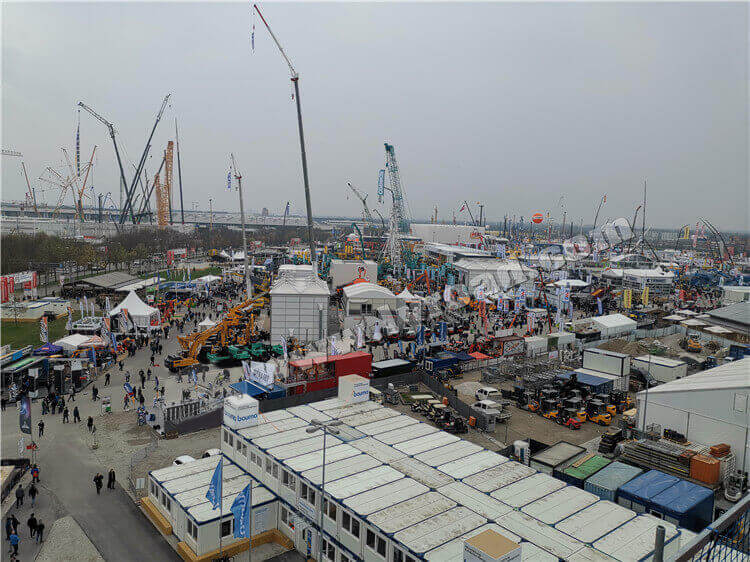 Outdoor exhibition area overlooking of Bauma Munich 2019
LYROAD Machinery, one of the representatives of China's road construction machinery industry, made its debut at the Bauma Munich for the purposes of showcasing its series products of asphalt mixing plant and using Bauma Munich 2019 as the best platform for learning and communicating with global high-end market. LYROAD Machinery hopes to hear the voices of high-end customers, grasp the global trend of industry development,and build the connection with the global high-end market on this exhibition.
Under the theme of "develop technology,protect environment,pursue beautiful world", LYROAD Machinery showed the world asphalt mixing plant products of JNW series, JJW series, LB series, ELB environmental-friendly series, YLB mobile series, DHB series, etc.Up to now, LYROAD Machinery has exported more than 400 sets of asphalt mixing plants to over 80 countries and regions, forming a certain brand awareness and influence.
The products of LYROAD Machinery are brought to Bauma Munich 2019, aiming to accept the high-end market's inspections and obtain real feedback and suggestions from high-end customers.This is also in line with customer-centric product manufacturing philosophy that LYROAD always adheres to.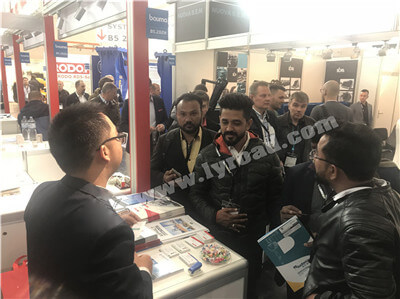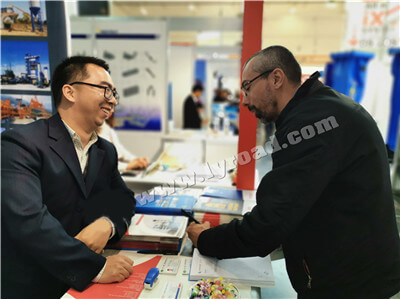 The staff of LYROAD Machinery is introducing asphalt mixing plants to exhibition visitors
At the exhibition, LYROAD Machinery's booth B5-202H was crowded and bustling.Our staff were busy communicating with visitors all the time.They introduced LYROAD Machinery and its products, listened carefully to visitors to achieve their opinions and feedback, and answered questions raised by them.
Nowadays requirement about environmental protection is becoming more and more stringent worldwidely and this is especially true in European and American markets.Except return of investment,environmental benefits have become one of customers' core demands when opting for an asphalt mixing plants.With superior performance and distinctive features,the environmental-friendly asphalt mixing plants of LYROAD Machinery attracted many visitors to stop by.Some visitors even give a thumbs-up gesture after consulting,praising the quality of our asphalt mixing plants.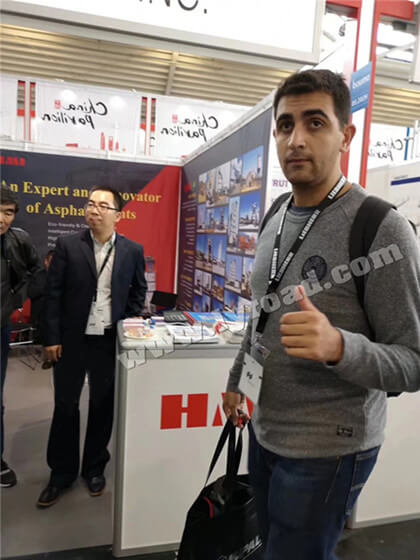 One exhibition visitor praised our asphalt mixing plants
As an advanced representative of China's road construction machinery industry, LYROAD Machinery paid a lot of time and cost and finally developed a series of technique to protect environment.Its products,especially JNW and JJW series asphalt mixing plants,have a outstanding environmental-friendly design and are equipped with a number of self-developed patented technologies,which can reduce the environmental impact of asphalt mixing plants comprehensively and significantly.According to the reports issued by authoritative institutions, air pollutant emissions and noise emissions of our products are both under the international standard.After years of inspection in domestic and international markets, the products have proved themselves.At Bauma Munich 2019,our environmental-friendly asphalt plants received more attention than others,showing environmental-friendly asphalt mixing plant will become the future development direction.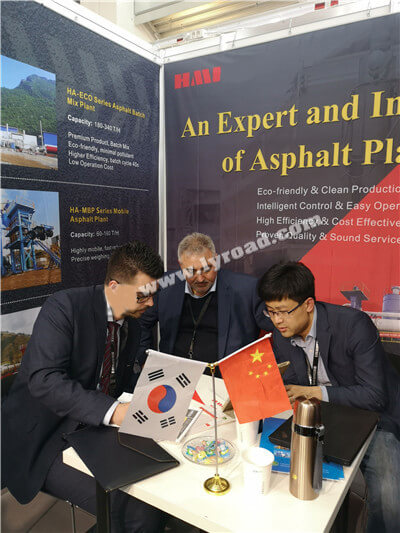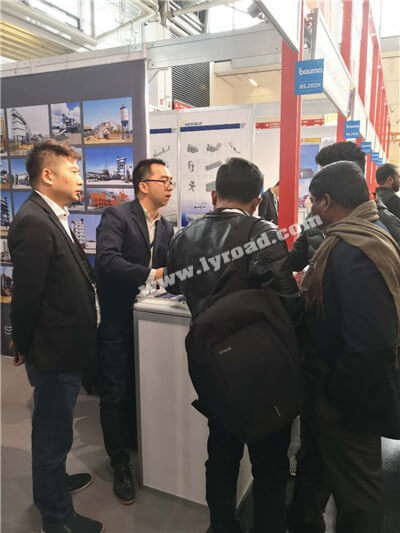 The staff of LYROAD Machinery is introducing asphalt mixing plants to exhibition visitors
LYROAD Machinery is looking forward to getting more opportunities to learn from other exhibitors as well as more face-to-face communication with visitors.Bauma Munich 2019 is undoubtedly the best window to communicate with the high-end markets for us.Through this window, the European and American markets will understand and recognize LYROAD. Likewise, LYROAD will see the distant place that it can eventually arrive through this window.