A detailed guide on buying batch mix, drum mix, mobile, mini, portable asphalt mixing plants for sale at low price in Myanmar. Best China manufacturer, LYROAD Machinery can meet all road project demands in Myanmar with LB, DHB, QLB, SLB, MDHB series hot mix plants. LB500-LB1000, QLB40-QLB80, MDHB40-MDHB100 most popular in Myanmar.
Myanmar's communication and transportation has always been dominated by waterway. Myanmar's economy grows rapidly in recent years, and the demand for infrastructure construction such as roads, railways, airports and ports are becoming increasingly strong. The Myanmar government made a good effort to built many roads and railways in the past few years, and got a considerable achievement in land transportation. In January 2019, one senior government official from the Myanmar Ministry of Construction said that the current expressway in Myanmar is only the Yangon-Mandalay Expressway. In order to improve traffic conditions and promote the rapid circulation of goods, the Myanmar government planned to build 12 more expressways.
Myanmar and China are friendly neighbors and their friendship has a long history. Myanmar actively participated in the "Belt and Road" and the cooperation relationship with China in the field of construction of railways, highways and transportation networks is getting tighter and closer, which is set to help Myanmar to enhance its road infrastructure construction, promoting economic and trade development.
The infrastructure construction in Myanmar will witness great development in the future, and the demand for road construction machinery is expected to be very large. China's various construction machinery manufacturers are positively involved, and LYROAD machinery is one of them. Our hot mix plants are widely distributed throughout Myanmar, and the number of mixing plants we exported to Myanmar is also the largest among Chinese manufacturers. This is due to the fact that LYROAD Machinery has been exploring the Myanmar market since the establishment of its international affairs department, and always adheres to supply the most cost-effective products to meet the needs of the Myanmar infrastructure market. LYROAD Machinery will strengthen our cooperation with Myanmar customers and the government to promote the road facility construction in Myanmar.
Models and Prices of Asphalt Plants for sale in Myanmar
It is very interesting to find that LB500 and LB700 stationary asphalt batch mix plants with capacity of 40tph and 60tph, SLB series with capacity of 40tph-80tph, DHB/MDHB asphalt drum mix plants with capacity of 40tph-100tph were favored by customers from Myanmar two or three years ago, and yet In the last year or two, our hot mix plants with larger capacity such as 200tph, 240tph, 300tph and even 400tph gain lots of orders or inquiries from Myanmar customers. This is no doubt a trend indicating that Large-scale road construction in Myanmar has begun. Our full range of asphalt mixing equipment for sale in Myanmar are showcased as below. Your inquiry is always welcome.
Cases of Our Asphalt Plants in Myanmar for Reference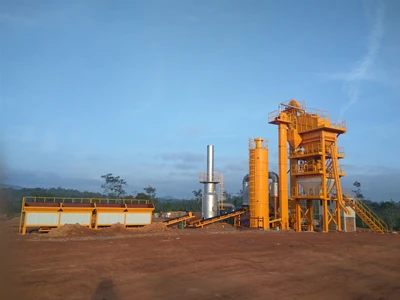 | | |
| --- | --- |
| Plant Location | Myanmar |
| Installation Date | 2017.11 |
| Model | LB500 Asphalt Mixing Plant |
| Type | Batch Mix / Hot Mix |
| Capacity | 40TPH (Standard Working Condition) |
| Mixer Capacity | 500kg/batch |
| Drying Drum | Φ1200*5200mm (Max Capacity:60t/h) |
| Dust-collector | Cyclone filter +Water dust filter |
| Filler Bin | Capacity: 0.5m³ |
| Direct-heating Bitumen Tank | 20m³ |
| Circular Vibration Screen | Capacity≥60t/h |
| Diesel/heavy oil burner | Max Capacity: 600kg/h |
| Fuel Consumption | Diesel Consumption: 6.5-7.5 kg/ton |
| Hot Aggregate Storage Hopper | 4+1 Rooms, Total Volume:8m³ |
| Aggregate Conveying Belt | B600 (Max Capacity: 60t/h) |
| Hot Aggregates Elevator | Chains type; Capacity≥60t/h |
| Weighing System | Aggregate: 700kg/batch; Filler: 70kg/batch; Bitumen: 40kg/batch |
| Control Room | 4000*2200*2300mm |
| Installation Power | 170kw (380V-50Hz) |
| Plant Covering Area | 25m Length, 20m Width, Max Height Point:12m |
---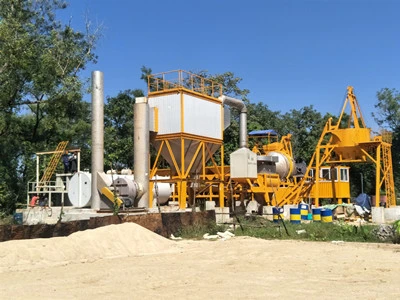 | | |
| --- | --- |
| Plant Location | Myanmar |
| Installation Date | 2018.11 |
| Model | QLB40 Mobile Asphalt Mixing Plant |
| Type | Mobile Traveling |
| Capacity | 40TPH |
| Fuel Consumption | Diesel Consumption: 5.5-7.0kg/t |
| Drying Drum | Motor Power: 15kw |
| Dust-collector | Cyclone filter + Baghouse dust collector |
| Bitumen Tank | 30t |
| Aggregate Storage Bins | 3; Volume:3*8m3 =24m³ |
| Aggregate Feeding Belt | B600*18000mm |
| Traveling Chassis | Front Axle: 700-16*4pcs; Rear Axle:825-20*4pcs |
| Installation Power | ≈140kw |
| Plant Covering Area | Length: 32m, Width: 21m, Max Height Point: 9m |
---
News about Our Asphalt Plants Exporting to Myanmar
We here choose out 4 stories about successful erection and our workers loading the parts of hot mix equipment about to ship to Myanmar into HQ containers. The loading process usually takes 2 to 4 days, depending on the size of your asphalt mixing plants.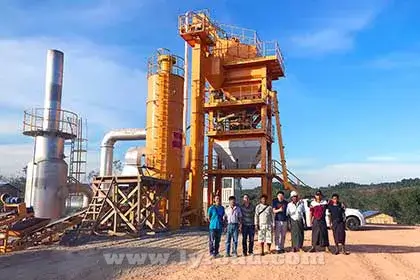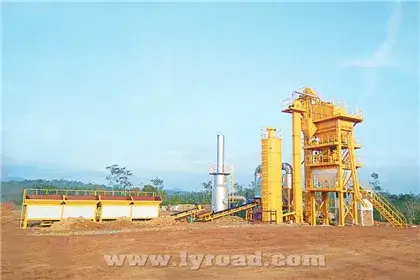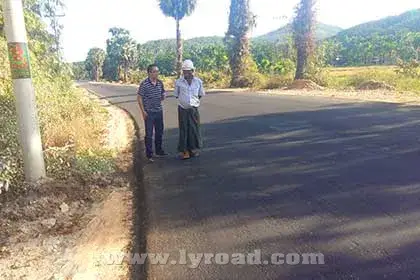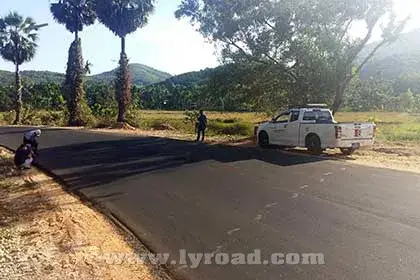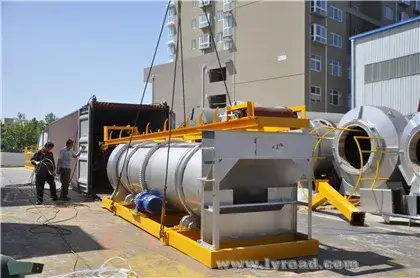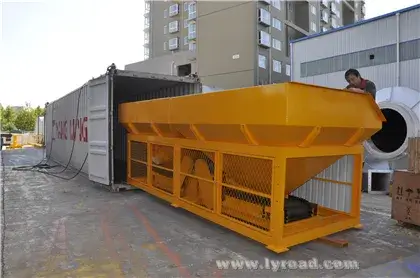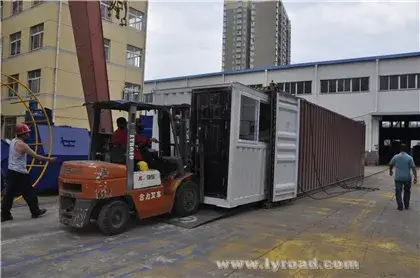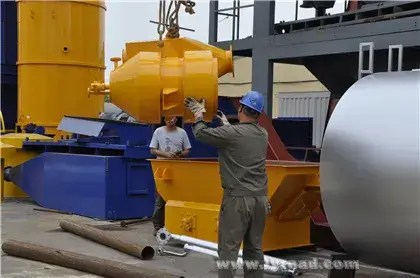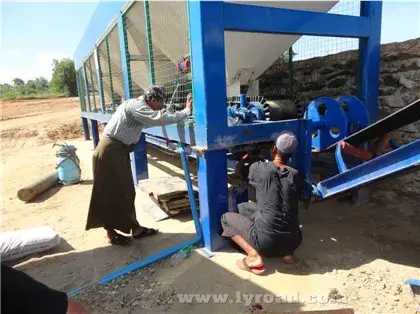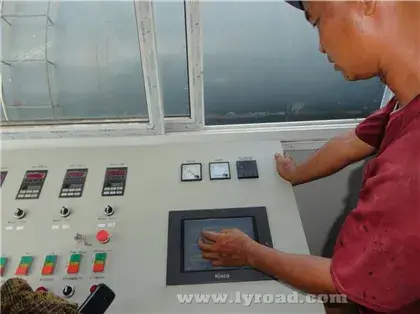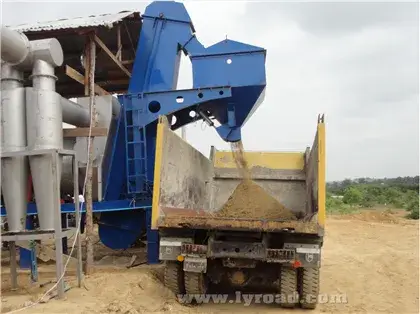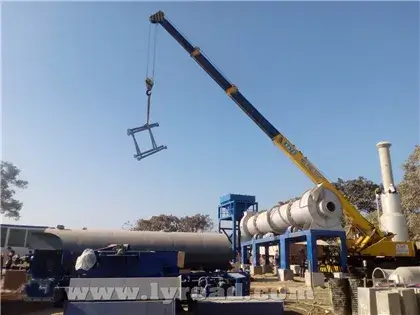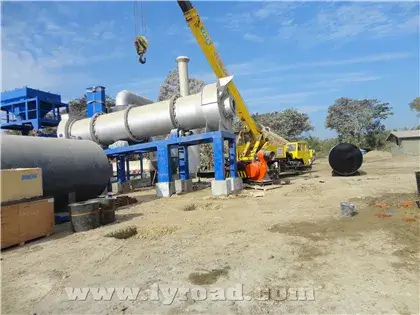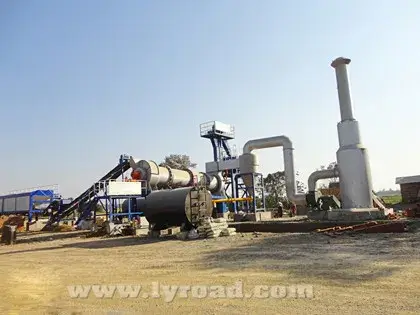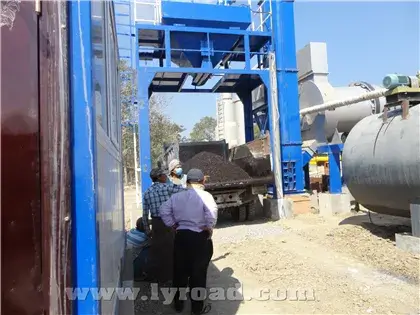 Burmese Customers Visiting LYROAD Machinery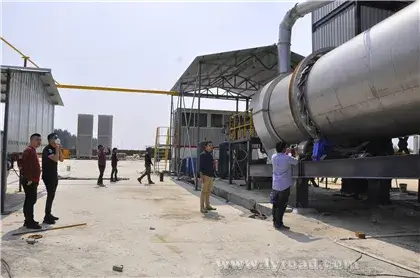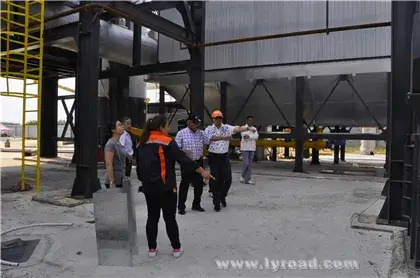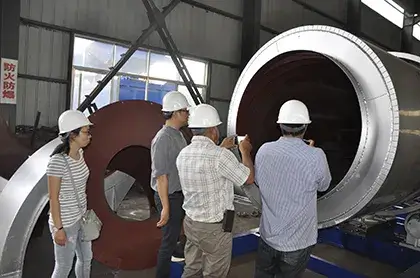 Tips for Buying Asphalt Plant for Sale in Myanmar
1. Voltage Standard
The voltage of the electricity for industrial use in Myanmar is 380, and the frequency of it is 50HZ.
2. Mode of Transportation
When discussing how to export large equipment from China to Myanmar with our Customers, we ordinarily recommend sea transport. It takes 15-20 days for the equipment to travel directly from Qingdao Port to Yangon Port or other ports in Myanmar. What's more, China and Myanmar are bordered, and if the destination is not far from the China-Myanmar border, you may prefer letting your asphalt processing equipment enter Myanmar from the ports like Mushi, Qingshuihe by road. Road transport costs highly, and road conditions in Myanmar are not very good at present, so it is not recommended if the destination is in central or southern Myanmar.
3. Dust Collector Configuration
4. Fuel Consumption
Diesel oil burners are used in drying system of most of our hot mix equipment exported to Myanmar, and ones using other fuels are scarce, so we commonly recommend diesel oil burners to Myanmar customers. If you choose to use other fuels like heavy oil, coal or natural gas, there are two things for you to pay attention, one is that customizing burners will take some time, thus the earlier you tell us about the fuel you are going to use in the burner, the better, the other is that it is wise to determine a amultifunctional burner. What fuel do you use? Please click the button below to tell us, and we will satisfy you perfectly.
Please Tell Us What Burner You Want
5. After-sale Service
(4) We usually spend 3-5 days on applying Myanmar single time business visa for our technicians. If we choose expedited processing according to the situation, the time will be shortened to within 3days. The period of validity of Myanmar business visa is 90 or 180days, but No matter how long the period of validity is, the stay time is 70 days.