Top 5 Concrete Pump Truck Manufacturers In The World
Concrete pump truck, also known as concrete pumper, is a kind of equipment used in civil engineering for pumping liquid concrete from a mixer to the framework. In most cases, this specialized vehicle is required to pour concrete in places non accessible by mixers.
There are two types of concrete pump trucks: boom pumps mounted on trucks and line pumps mounted on trailers. Equipped with a radio-controlled robotic arm, concrete boom pumps could pour concrete almost anywhere thanks to the pistons, which can produce enough pressure to send the materials through the pipes and their capacity determines the performance of the machine and its reach. As a contractor looking for a pumper, this article will get you a clear idea of what brands of concrete boom pumps to purchase.
Top 5 Concrete Pump Truck Brands
1. Sany
2. Putzmeister
3. Schwing
4. Liebherr
5. Concord
1. Sany
Sany Heavy Industry Co, is a Chinese international heavy equipment manufacturer founded in 1989. The Chinese monster made a name in the international market by developing technologies and offering high quality. In 2012, they bought the German Putzmeister, making a step into becoming the biggest concrete pump truck brand in the world. The largest model of Sany's truck mounted concrete pumps has a reach of 60 meters and an output up to 190 m³ per hour.
Founded: 1989
Headquarters: Changsha, Hunan, China
Employees: 90,000
Products: Heavy equipment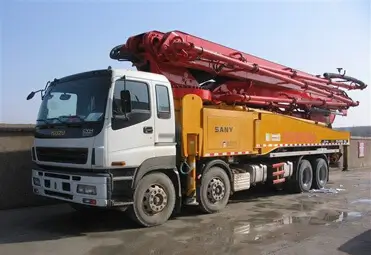 2. Putzmeister
The German manufacturer is so far the most famous player in the industry all around the world. Founded in 1958, Putzmeister succeeded in making a great reputation with concrete pumps and other pumps for different materials. The company makes truck-mounted boom pumps with a reach up to 63 meters and an output of 190 m³ per hour.
Founded: 1958
Headquarters: Aichtal, Germany
Employees: 3,000
Products: Concrete equipment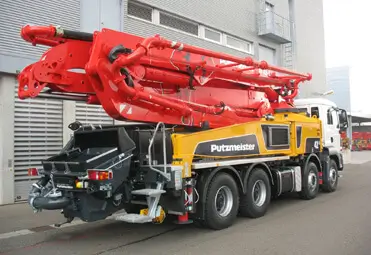 3. Schwing
Schwing GmbH, another German big name in the industry of concrete equipment manufacture, produces concrete pumpers since 1934. With plants in five countries: Austria, Brazil, India, the USA, and Germany, Schwing keeps a big share of the market selling its products worldwide. The 65 SXF is the top-performance truck-mounted boom pump with a reach of 64.25 meters and an output of 162 m³ per hour.
Founded: 1934
Headquarters: Herne, Germany
Employees: 3,300
Products: Concrete equipment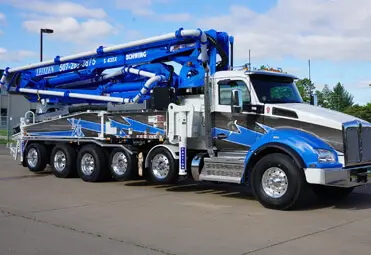 4. Liebherr
Liebherr, a German-Swiss multinational company, is an multinational giant in the industry of heavy machinery. Founded in 1949, the company manufacturers a variety of construction equipment all known by endurance and reliability. Liebherr produces all sorts of concrete pump trucks and their top model is the 50 XXT, with a reach of 49,1 meters and an output up to 163 m³ per hour.
Founded: 1949
Headquarters: Bulle, Switzerland
Employees: 43,800
Products: Heavy equipment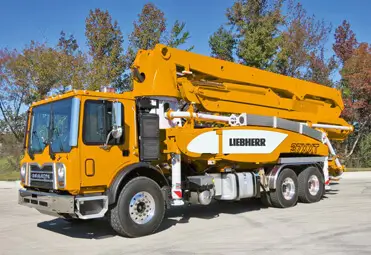 5. Concord
A Canadian company on our list, Concord makes a variety of pumpers. The brand relies on the strength and endurance of its machinery, which are regarded as top requirements in the industry. Founded in 2003, the company produces many models and types of concrete pumpers. The CCP-65SZ5-180 is their top product, with a reach of 65 meters and an output of up to 180 m³ per hour.
Founded: 2003
Headquarters: Port Coquitlam, British Colombia, Canada
Products: Concrete pumping equipment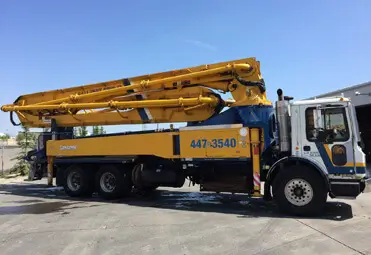 Concrete Pump Truck Manufacturers in the USA
Among the leading US manufacturers we can mention: Reed Concrete Pumps, Alliance Concrete Pumps Inc, Schwing America Inc and Putzmeister America. These companies produce concrete pumps for the US and North American market.
Concrete Pump Truck Manufacturers in China
Chinese companies are having a big share in the international market of concrete boom pumpers. The leading brand is Sany Heavy Industry and of course we can mention others like Xuzhou Construction Machinery, Zoomlion Heavy Industry, Shandong Hongda Construction Machinery, Lonking.
Concrete Pump Truck Manufacturers in India
Schwing Setter India is the only concrete pump manufacturer in the country, and it supplies the local market with variety of products and exports in Asia.
Concrete Pump Truck Manufacturers in Europe
The German giants--Schwing, putzmeister and Liebherr dominate the market, but we can also name another German brand that is considered as a good supplier of concrete pumpers which is KCP GmbH. These manufacturers rely on their reputation selling all kinds of concrete pumps worldwide.
To Learn More About Your Local Manufacturers and Suppliers
To Sum It Up
With decades of experience in the industry, all mentioned companies produce reliable products, and they are sold and used all around the globe building houses or even skyscrapers. Please note that the order above is not based on their strength or market share.
If you are planning to purchase a concrete pump truck, you can check our guide. Please feel free to contact us to learn more or for any questions.
FAQs
1. What Are the main criteria of choosing a concrete pump truck?
Well, when considering buying any product, the price absolutely matters and could be on the top of the requirements. But in the case of truck-mounted concrete pumps, their vertical reach is also very important because it determines the limit of height or depth you can pour concrete.
2. How does a concrete pump work?
The mixing truck pours concrete into a hopper, where it's divided into two cylinders. Each cylinder has a piston and they both work in opposite directions: while one draws concrete from the hopper in the return stroke, the other pushes it inside the pipeline in the forward stroke. That keeps the flow and preserves the materials.
3. Which brand of concrete pump is the best?
All well-known brands are the best option, for they guarantee the quality, endurance, and long lifetime which are important in the construction field. So you definitely should avoid failures.
4. Are Chinese brands a good option?
Actually, Chinese brands are among the top manufacturers of truck-mounted concrete pumps. They are developing technologies and taking a increasingly larger share in the market and could offer lower prices compared with other manufacturers with a similar quality.