Top 5 Best Motor Grader Manufacturers In The World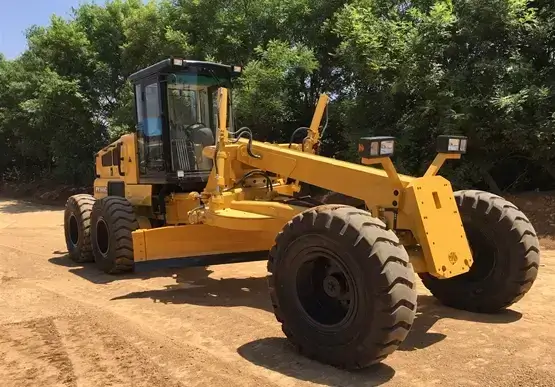 Model:

APY135 ~ APY220

Turning Radius:

7,500mm ~ 7,800mm

Wheelbase:

5,347mm ~ 5,647mm
Grader, also known as road grader or motor grader, is a heavy civil engineering equipment used mostly for creating flat surfaces during grading works. It's one piece of the essential equipment in earthworks, allowing for the surface leveling with extremely high precision.
Starting from horse towed blades to self-propelled, the grader evolved with the introduction of new technologies that international brands are competing to improve. The typical design is simple: 3 axles, front steering wheels, a large blade, a cab and an engine in the rear driving the tandem. The main criteria to distinguish them is the size of the blade, manufacturers and prices. So, if you are a contractor wondering what brands of motor grader to purchase, the following comparison will definitely help you.
Wrap-up: Top 5 Motor Grader Brands
1. Caterpillar 2. John Deere 3. Komatsu 4. Volvo 5. Case
1. Caterpillar
Caterpillar graders are among the top selling section of the American monster. Relying on decades of experience in road graders manufacturing, CAT has developed its models to meet the 21st century requirements with modern cabs, better hydraulics and larger blades. Sizes go from 12 to 24 ft large.
Founded: 1925
Headquarters: Deerfield, Illinois, U.S.
Employees: 97,300
Products: Bulldozer, Excavator, Wheel Loader, Motor Graders, Diesel Engine, Compactor, etc.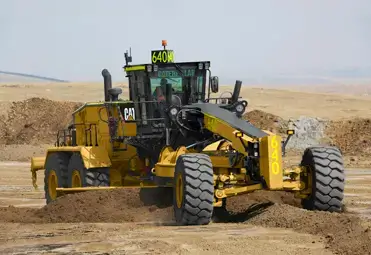 2. John Deere
Another strong American company in the market of motor graders, John Deere is among the best equipment suppliers in the world. Developing graders since 1968, the manufacturer now relies on its industry-first smart blade technology allowing the machine to keep balance no matter what the angle of the blade is.
Founded: 1837 by John Deere
Headquarters: Moline, Illinois, U.S.
Employees: 69,600
Products: Agricultural machinery and heavy equipment
Grader series: 620G/GP, 622G/GP, 720G/GP, 722G/GP, 820G/GP, 822G/GP
3. Komatsu
Komatsu Ltd is a multinational Japanese corporation famous for making construction, industrial and military equipment. The first motor graders were built back in 1952, ever since Komatsu kept improving this machine until reaching the actual level. The actual models come with 14 ft blades offering.
Founded: 1921
Headquarters: Tokyo, Japan
Employees: 59,632
Products: Construction, Mining and industrial equipment, military vehicles, etc.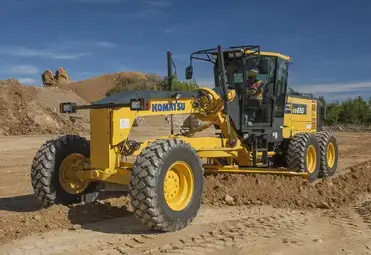 4. Volvo
The Swedish manufacturer is among the international leaders in the business of heavy equipment. Even though they only started building road graders in 2001, their reputation and experience allowed it to compete with the other brands relying on their extreme engines and offering quality and operator comfort. The engines rating is between 145 kW (195 hp) and 198 kW (265 hp).
Founded: 1832
Headquarters: Gothenburg, Sweden
Employees: 13,397
Products: Compacters, dumpers, excavators, haulers, backhoe loaders, motor graders, waste handlers, etc.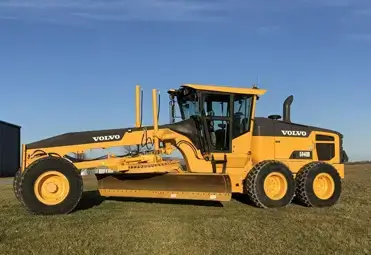 5. Case
One of the oldest machinery builders in the world, since 1842, Case has made an international reputation making agricultural and construction equipment. The latest addition of this manufacturer's motor grader is the C series perfectly designed for small-to-mid-size grading operations.
Founded: 1842
Headquarters: Turin, Italy
Products: Compactors, excavators, haulers, wheel loaders, motor graders, etc.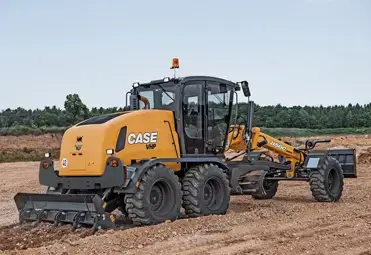 Motor Grader Manufacturers in India
Two major companies produce road graders in India: Mahindra Construction Equipment and Action Construction Equipment Ltd. Both manufacturers produce mid-size equipment and are making progress in the national market.
Top grader manufacturers in India
Mahindra Construction Equipment Ltd
Action Construction Equipment Ltd
Motor Grader Manufacturers in Korea
One local Korean manufacturer produces graders in the country, it's LS International Co, Ltd, with its model XG3165C equipped with a 3660 mm large blade.
Motor Grader Manufacturers in China
Among Chinese manufacturers we can mention Shantui, XCMG, Sany Heavy Machinery Ltd, Shandong Lingong Construction Machinery. These companies are slowly taking part in the international market relying on the affortable cost and improving quality.
Top Grader brands in China
Shantui
XCMG
Sany
Shandong Lingong
Motor Grader Manufacturers in the US
Leading companies in the sector for decades, American grader manufacturers have the best reputation in the world. Major brands produce this machinery like Caterpillar, John Deere.
To Learn More About Your Local Manufacturers and Suppliers
Conclusion
From our prospective, the brands mentioned above are the world's top motor grader manufacturers. They have one thing in common, which is their great reputation earned from satisfied clients all around the world. If you are planning to buy a grader, you can check our guide. Please feel free to ask us questions or learn more.
FAQs
1. Does the brand matter when buying motor graders?
Well, when buying equipment for your company, the first thing to do is to fix the needs. The main difference between products is in the size, but we have to mention the technology each company rely on designing their machinery. For example, some models may be more useful for certain types of terrains due to their engine power others offer better comfort and precision.
2. Which brand of motor grader is the best?
The most important thing is to buy a well-known brand. There is a good reason some companies are known worldwide, endurance and lifetime matter especially for high precision requiring machines.
3. Could Chinese brands be a good option?
Actually, Chinese companies are making major progress in the industry trying to earn a reputation among the world's best. They offer good technology and relatively low prices so they may be taken into consideration considering cost performance.