Top 5 Backhoe Brands Around The Globe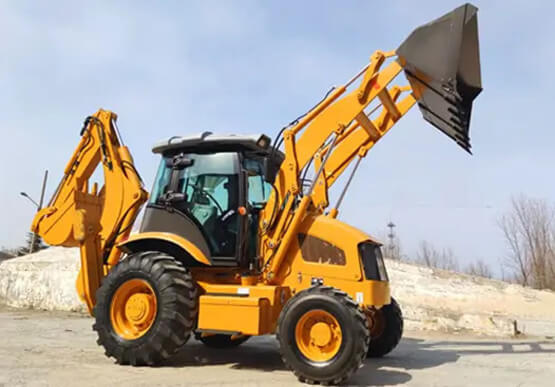 Model:

620

Loading/Lifting Capacity:

2500kg

Max. Digging Depth:

4082mm/4500mm
A backhoe, also often referred to as the backhoe loader, is a tractor equipped with a massive front-mounted loader bucket and a robust rear-mounted digging bucket. They can move, level, or scoop up lightweight materials, able to carry up to 8,760 pounds in an average. It also can dig an average of that is 15 feet and the average reach of less than 26 feet.
A backhoe could be an investment that is worth the cost. If you'll be constantly moving or excavating massive quantities of materials, it could be a better option because of its high versatility and utility. This kind of equipment is available in a huge scopeof sizes -- mini or small, medium, and large, and in wide range of power--between 25HP and 150HP. Regardless of size and brand, the prices of backhoes for sale on the global market vary from $6,000 to $35,000. Then what are the top brands? What are the most popular brands? In other words, what brands are worth looking into in the event you decide to buy one? Let's look at it.
Wrap-up: Top 5 Backhoe Brands
1. Cat 2. John Deere 3. Komatsu 4. Volvo 5. Kubota
1. Cat
Cat's backhoe loaders offer the best digging, trenching, backfilling, and material handling capabilities and are suitable for numerous applications including general construction, demolitions and excavations, landscaping, breaking asphalt and paving. Cat backhoe machines provide the power and precision you require in areas where bigger equipment isn't practical.
The maximum capacity is 10000 to 20000 kilograms and a net power of 68 to 130 HP.
Founded: 1925
Employees: 97300
The total product lines: 300 products lines comprising articulated vehicles, backhoe loaders, excavators, engines, dozers, Generators, motor graders, skid steer loaders, and wheel loaders
Foreign subsidiaries: 161
Production sites: Deerfield, Illinois, U.S.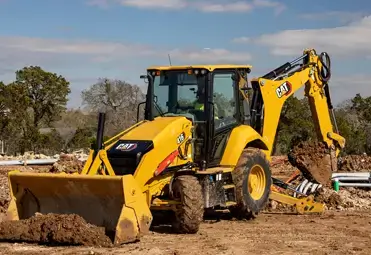 2. John Deere
Why have two machines when just one can work? When you're loading trucks or tearing up blacktop, laying pipes, digging trenches or moving heavy materials or materials, you'll find that John Deere's L-Series backhoe loader is well-equipped for the job. It comes with an additional lifting capabilities and the PCLS hydraulics (on the 310SL, HL and 410L) with outstanding multi-functional performance.
The maximum capacity is 6270 kg to 11607 kg and a net power of 69 to the 148 HP.
Founded: 1800s
Employees: 69,000
Total Product Lines: 24
Foreign Subsidiaries: 70
Production locations: Moline, US, Germany, California, and many more.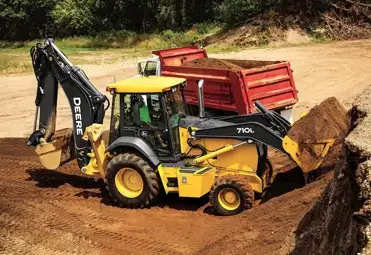 3. Komatsu
Komatsu backhoes are robust 2 and 4 wheel steering models. With a long-standing tradition of quality and solid background in the global market of backhoe loaders, Komatsu is determined to establish new standards in the marketplace. The complete optimization of the user's working environment, cutting-edge technology and a variety of configurations and equipment options and, as always, the user is the focus of the attention of Komatsu.
Maximum capacity is 8 to 10 tons and net power of 74/99.2 in kW/HP up to 75/101 kW/HP.
Founded: 1900s
Employees: 60,000
Total product Lines: 25
Foreign Subsidiaries: 140
Production Sites: Tokyo, Japan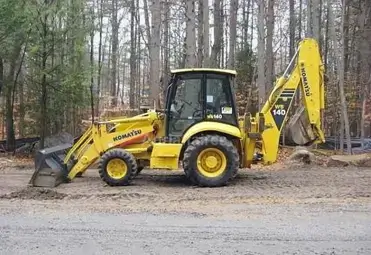 4. Volvo
Since 2002, Volvo Construction Equipment started the gradual introduction of the versatile machines that were designed by the company. The eagerly anticipated BL series were a significant part of the company's product range. These Volvo backhoe machines have all that you could ever want in the world of a machine. A loader that is built with the strength and ease of the Volvo wheel loader. A backhoe that has the performance and power of the Volvo excavator, an operator's station that will wrap you in luxury and a range of features for serviceability, which will guarantee long-lasting, efficient machine lifespan.
Headquarters: Gothenburg, Sweden
Founded: 1832
Employees: 13,397
Products: Compacters, dumpers, excavators, haulers, backhoe loaders, motor graders, waste handlers, and more.
5. Kubota
With the powerful Kubota engine, This Kubota multifunctional loader with digging bucket is renowned for its outstanding efficiency and longevity. Equipped with twin operating pedals for amazing handling as well as hydraulic steering to provide effortless control, it is a great option to let Kubota backhoe loaders join your fleet or work on your next project.
With net horsepower (Rated Engine) of 21.6 HP to 63.0 HP.
Headquarters: Osaka, Osaka, Japan
Founded: February 1890
Employees: 40,202 (Report 2019)
Backhoe loader models: B26, L47, M62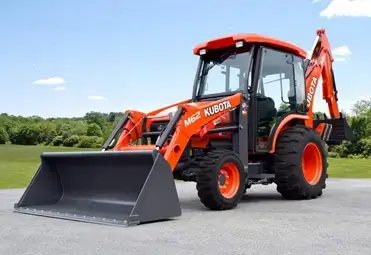 Top Brands of Backhoes in India
The backhoe loaders manufactured by Indian companies are designed to provide the best breakout strength, higher loader lift and reach, as well as the best view of the cab. The latest backhoe loaders come with sturdy, robotically-welded two-piece structural frames that result in excellent performance, stability and reliability.
Popular brands in India include:

Tata Hitachi
Hyundai
L&T Limited
Top Backhoe Brands in China
Loaders with excavating function have been recognized by more and more users in China, and their sales have continued to increase. Experts predict that China's market will rise steadily in the next few years. In local road maintenance and small-scale construction of engineering facilities, the demand for backhoe loaders will be higher and higher.
These are top brands from China.

XCMG
Liugong
SDLG
ZOOMLION
SUNWARD
The Best Backhoe Brands from the USA
The standard backhoe loaders in the USA is of 14' digging depth and 70-90 horsepower. Those giant excavator manifacturing companies produce excavator and loader hybrid as well, to meet the landscaping and agricutural needs.
Some of the top brands in USA include:
Top Backhoe Brands in Korea
The market in Korea is expected to grow at a CAGR of 12.6% from 2018-2023. One of the reasons for this growth is the increasing demand for construction equipment that can be used for underground construction, such as tunneling and mining.
Top Backhoe Manufacturers or Suppliers in Korea
Doosan Infracore Co., Ltd.
Jinsung T.E.C. Co., Ltd.
Daechang Forging Co., Ltd.
Pukdoo Industries Co., Ltd.
Sm Heavy Industries Co. Lte.
Top Backhoe Loader Manufacturers in Turkey
Excavating and loading machines are in high demand in Turkey due to the fact that Turkey's government invests in major infrastructure projects like Istanbul High-Speed Railway, IGA airport, and Akkuyu Nuclear Power Plant.
Top Manufacrurers in Turkey include:
Ekran Machinery Limited
Akca Makina A.S
Vi Makina Elektrik Enerji San. Ltd
To Learn More About Your Local Manufacturers and Suppliers
FAQs
1. How long will backhoes last?
In general, after eight thousand hours, 50 percent of the components of the backhoe loader will have reached their limit and will fail in 3500 hours.
2. What are the benefits of backhoe machines?
Backhoes are designed for landscaping, and they can also be used in moving rocks, boulders, and gravel, as well as moving dirt and pushing topsoil to the ground. Tractor Backhoes are also useful for digging holes in fence posts or for minor excavation tasks, for example, digging small ponds or water features.
3. Do backhoe loaders come with attachments?
The backhoe can be outfitted with powerful attachments powered by hydraulic. This permits the machine to be used for other purposes, apart from digging and lifting. The most popular types of backhoe attachments employed by contractors include breakers and hammers.