Top 10 Excavator Manufacturers In The World
Excavators are earth-moving machines that can deliver top performance in engineering construction, such as highways, bridges, buildings, breeding ponds, underground engineering, emergency excavation, etc. A variety of attachments can be chosen to enhance their versatility.
Here is a quick view of the world's top-class excavator manufacturers or namely excavator brands (A list compiled based on the initial alphabetical order of the brand name). Top mini excavator manufacturers, as a relevant issue, are also specially mentioned. With this list in mind, the first problem in the purchase decision making phase can be readily solved.
1. Case
Case is the brand name of Case Construction Equipment, who is built on the principle that simple is better. Since 1842, Case has devoted itself to tackle earth-moving challenges with a variety of equipment.
Case excavators include full-size excavators, midi excavators, and mini excavators, with operating weight ranging from 3,910 LB (about 2T) to 178,575 LB (about 90T), focused mainly on crawler type.
Founded: 1842
Headquarters: Turin, Italy
Employees: Over 42,000
Excavator Products: C Series mini (CX17C ~ CX60C), CX75C SR/CX80C midi, D Series full size (CX130D ~ CX750D)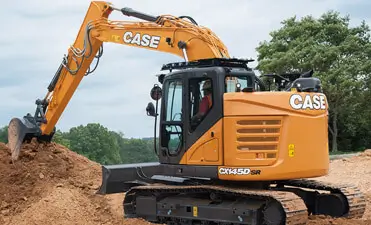 2. Caterpillar
This is a far-famed giant in the excavator manufacturing industry. With roughly 100 years' history, this company, which is headquartered in Illinois, United States, and has a number of branches throughout the whole world, accounts for a great share of the global market.
Able to leverage world-class expertise, Caterpillar boasts unparalleled innovativeness. The largest-ever digger, with an operating weight of 1,000 tons, comes from Caterpillar. 6090 FS, the model of this colossal excavator, owns a 52 m3 bucket and 93.6-tonne payload.
Founded: 1925
Headquarters: Deerfield, Illinois, U.S.
Employees: 97,300
Excavator Products: Mini (300.9D ~ 303.5E2 CR), Small (311F L RR ~ 323), Medium (320 GC ~ 335F L), Large (336 GC ~ 395), Demolition, Long reach, Wheel, Frontless excavator.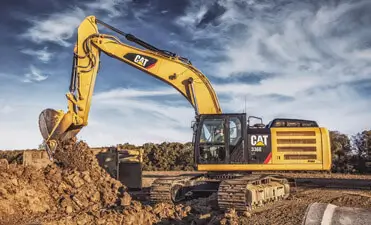 3. Hitachi
Since the inception of Hitachi's first electric motor repair shop in Japan in 1910 to the introduction of the recent Dash-6 construction excavators and EX-7 Series mining excavators, the Hitachi brand has a history that spans more than 100 years.
Hitachi concentrates its attention on the performance of the equipment, so Hitachi's trackhoes are renowned for efficiency, reliability, and durability. Hitachi says that it's never sidetracked, and R&D excavators without distraction. Compact, utility, construction/production, mining, wheeled, reduced-tail-swing, so many types of excavators are listed in its lineup, aiming to satisfy almost all earth-moving requirements.
Founded: 1910
Headquarters: Chiyoda City, Tokyo, Japan
Consolidated subsidiaries: 873 companies
Excavator Products: Compact (ZX17U-5 ~ ZX60USB-5), Utility (ZX130-6 ~ ZX210-6), Construction (ZX250LC-6 ~ ZX870LC-6), Reduced-tail-swing (ZX75US-5 ~ ZX345USLC-6), etc.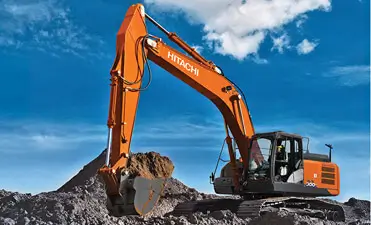 4. Hyundai
While earth-moving machinery is not the main products since its inception, the Korean multinational enterprise has shown great strength in excavator, loader, dozer manufacture. Now it offers a full range of excavators to cater to the needs in many applications, such as mining, foundation building, scrap handing, etc.
Compared with crawler excavators, Hyundai's wheeled trackhoes seem to be more popular due to their operation experience and exceptional hydraulic power.
Founded: 1985 (Hyundai Construction)
Headquarters: South Korea
Subsidiaries: 5
Excavator Products: HX series of medium to large track hoes (HX130A LCR ~ HX900L, Operating weight from 13,445kg to 93,730kg)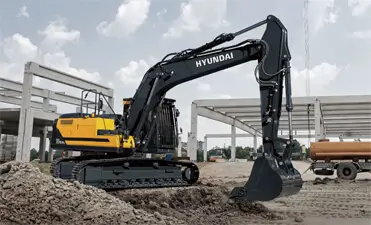 5. JCB
JCB is the acronym of Joseph Cyril Bamford, name of the company founder who begun his cause just 75 years ago. The british family company now become a comprehensive construction equipment manufacturer.
JCB's excavation equipment includes mini excavators, wheeled excavators, tracked excavators, backhoe loaders, etc.
Founded: 1945
Headquarters: Rocester, United Kingdom
Employees: Approx. 11,000
Excavator Products: ME (Mass Excavation), XD (extra duty), HRD (High Reach Demolition)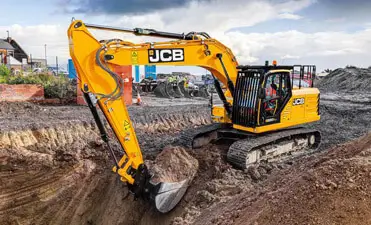 6. John Deere
John Deere is another renowned American multinational, founded in 1837. The founder named John Deere was a blacksmith, and now, the company makes itself one of the leading excavator manufacturers around the world. Easy-to-use technology is valued highly by the firm. Productivity and sustainability embed in each excavator.
It has a magnificent lineup of hydraulic excavators, covering compact, mid-size and large excavator, operating weight spanning from 3,800 LB to 188,750 LB.
Founded: 1837
Headquarters: Moline, Illinois, U.S.
Employees: 69,600 (2020)
Excavator Products: Compact/Mini (17G ~ 60G), Mid-size (75G ~ 380G LC), Large (470G LC ~ 870G LC)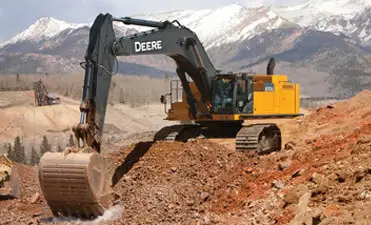 7. Komatsu
Founded in 1921, Komatsu also has a long history, just as many Japanese enterprises. Komatsu celebrated 100th anninersary recently, and it is ambitiously going forward to next 100 years. It's attempting to endow the earthmoving machines with intelligence and trying to make its products smart and clean.
Komatsu's excavators are famous for their built-in 3D GPS systems and other advanced technology. These features grant the excavators ease to operate and maintain.
Founded: 1921
Headquarters: Tokyo, Japan
Employees: 59,632
Excavator Products: Small (PC30MR-5 ~ PC88MR-11), Mid-size (PC130-11~PC210LC-11WH), Large (PC360LCi-11 ~ PC1250LC-11 MH)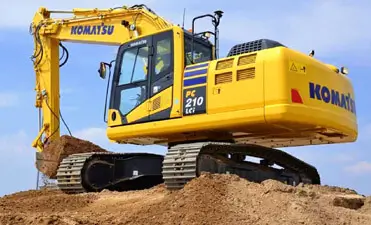 8. Liebherr
Liebherr Group is also a family-run enterprise, its business activities and structure have been shaped by the company founder Hans Liebherr. In a company history spanning more than 70 years, Liebherr has formed 13 product segments. Beyond construction machines like excavators, loaders, cranes, etc., refrigeration and freezing machines are included in Liebherr's business range.
The German company is now one of the top suppliers of heavy equipment in Europe. Its excavators have a shared unique feature, that is, the models start with R, A, or P and end with Litronic. Its wheeled track hoes come with operating weight from 12,100 kg to 27,500 kg, while crawler track hoes 14,900 kg to 101,200 kg. What's more, Liebherr also provides the dredging excavators, operating weights ranging from 270,000 kg to 580,000 kg.
Founded: 1949
Headquarters: Bulle, Switzerland
Employees: 48,049 (2019)
Excavator Products: R Series (R 914 ~ R980 SME-E)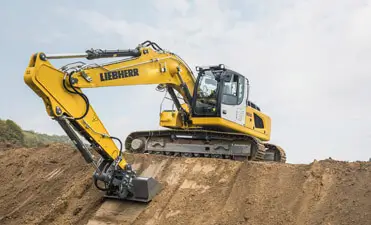 9. SANY
SANY Group, a representative enterprise of China's engineering machinery, is winning fame abroad in recent years, while simultaneously expanding its operation blueprint by building overseas subsidiaries. It focuses more on infrastructure construction-related products. Leveraging the increasing economic strength and international influence of China, SANY's products see an alarming export growth.
Founded: 1989
Headquarters: Changsha, China
Employees: Approx. 90,000
Excavator Products: Mini (SY16C ~ SY35U), Compact (SY50U ~ SY155U), Medium (SY215C ~ SY265C), Large (SY365C, SY500H)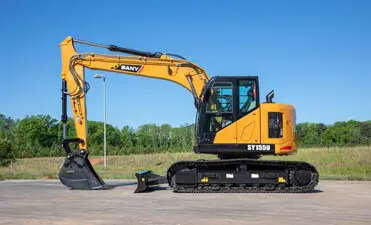 10. Volvo CE
CE, here refers to construction equipment. So Volvo CE can be distinguished from the Swedish car maker Volvo. Actually, the former is a subdidiary of the latter, and share the same principle: safety first. Volvo Construction Equipment has acquired manufacturers such as Åkerman, Zettelmeyer, Samsung and Ingersoll Rand, and its products include loaders, haulers, pavers, feller bunchers, etc.
The excavators of Vovlo CE are divided in several series, D series, C series, B Prime series. In addition, Åkerman's H series and EC series are included.
Founded: 1832
Headquarters: Gothenburg, Sweden
Employees: 13,397 (2016)
Excavator Products: Mini (ECR18E ~ ECR88D), Medium wheel (EWR130E ~ EW240E MH), Medium Crawler (EC140E ~ ECR235E), Large Crawler (EC250E ~ EC950F)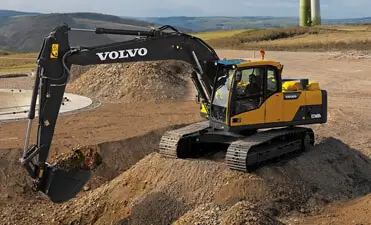 Excavator Manufacturers In Japan
These Japanese brands, such as Hitachi, Komatsu, Sumitomo, Marubeni, Kobelco, Topy, Yanmar, Mitsubishi, Kubota, Takeuchi, etc could be thought to be synonymous with quality, functionality, and durablity.
Excavator Manufacturers in Germany
A large proportion of high-end excavator brands worldwide comes from Germany. Those renowned excavator manufacturing companies are forever worth paying a tribute to, such as Liebherr, Sennebogen, BOMAG, JCB Vibromax, Hamm AG, Wirtgen, etc.
Excavator Manufacturers In USA
Apart from Caterpillar and John Deere, there are many other local brands of excavator in the United States, for instance, Terex, Bobcat, JLG, etc.
Excavator Manufacturers In China
China's domestic brands are striving to take back market share within its territory. Excavator brands like XCMG, Sany, Liugong, Zoomlion, SDLG, Shantui, CIMC, are seeing a rapid growth.
Excavator Manufacturers In India
Other than the subsidiaries of those giant multinational enterprises in India, its local excavator manufacturers are rising in number. They include L&T, Mahindra CE, ACE CE, Deccan CE, Nakoda, etc.
For information about excavator brands originating from UK, Italy, Spain, Korea, Malaysia, South Africa and others, contact us via email.
To Learn More About Your Local Manufacturers and Suppliers
The Best Mini Excavator Manufacturers
The world-leading track hoe manufacturers have so formidable strength that exceptional mini excavators basically come from them. When it comes to the most popular mini diggers in recent years, Kubota, JCB, Bobcat, and Komatsu are the more preferred brands. Some mini excavator models of them are constantly hot selling, like Kubota KX41-2 V and JCB 8018 CTS.
Performance-price Ratio Matters More Than Brands At Times
Other than the top 10 brands referred above, some other brands are quite worth paying attention to, not only because their excavators have the roughly same quality and performance as the top 10, but notably because of their pricing strategy.
ACE is one of them. Cost-effectiveness is attached more importance to. More affordable, more reasonable, more beneficial to the users. With operating weight varying from 5.95t to 48.9t, and digging force between 37.7KN and 267KN, ACE's track hoes focus more on meeting common, universal needs,. As a result, it has fostered a special positioning and cultivated its own product features, like high operating efficiency, convenient and swift upkeep. Moreover, moderate prices are more appealing to customers from developing countries. So it's a ideal option to choose from these brands especially if your procurement budget is not sufficient.
FAQs
1. How many years can an excavator be used?
In theory, the service life of an excavator can exceed 15 years. Due to the mechanical wear of the equipment and the loose internal structure, the longer the use time, the more serious the failure rate. Based on proper maintenance and careful maintenance, the construction life of the excavator will exceed 20 years.
2. What are excavator attachments?
One of the reasons why excavators are such versatile machines is the attachments they can use. The most popular excavator attachments include digging bucket, grab, rock breaker, auger, Ripper, concrete pulverizer and alike.