This spring is destined to be particularly bright and enchanting. Bauma Munich 2019 will be held on April 8th at the Messe München Trade-fair Center in Germany. This is the world's leading trade fair in our industry. All worldwide famous construction machine and mining equipment manufacturers will gather in Munich to compete and communicate with each other on the world stage of Bauma Exhibition.
Carrying a strong expectation on its shoulder, LYROAD Machinery,one of the world-renowned asphalt mixing plant manufacturers will make its debut at Bauma Munich 2019,representing the advanced manufacturing level of China's road-building machinery. LYROAD Machinery has successively participated in the Bauma Shanghai Exhibition many times and achieved fruitful results. This is the first time that LYROAD Machinery shows up at the Bauma Munich Exhibition, which has extraordinary significance for the asphalt mixing plant manufacturer.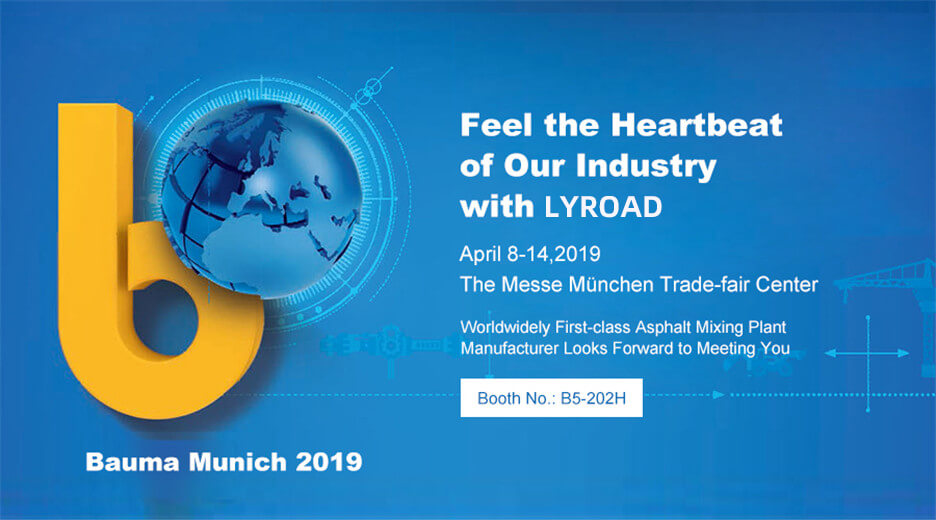 It is reported that the exhibition area of Bauma Munich 2019 has created a new record, surpassing 2016 level of 605,000 square meters and reaching 614,000 square meters. In 2016, there were 3,425 exhibitors from 58 countries, with nearly 600,000 people coming to visit. The scale of Bauma Munich 2019 is expected to be more unprecedented.The official of the exhibition says on its website that Bauma Exhibition is more than the world's leading trade fair, it has become the heartbeat of the global machinery manufacturing industry, through which we can see a spectacular industry prospect in full dimension.
After more than 20 years of technology development and market expansion in the field of asphalt mixing plant, LYROAD Machinery has grown into an international manufacturer with cross-market service capability and global layout strength. Series products of asphalt mixing plant manufactured by LYROAD Machinery have been exported to more than 80 countries and regions, thus its overseas export experience is rich and its competitive advantage are obvious. LYROAD Machinery's whole-process professional service system has covered the whole world, not only can meet various requirements at home and abroad, but also can provides customers with worry-free in all aspects of international payment, commodity inspection and transportation, customs clearance, installation and commission, and after-sales service. It can be said that the Bauma Munich 2019 will be a milestone event in the development history of LYROAD Machinery. LYROAD has blown a bright horn and get ready for entering the globally high-end market.
LYROAD Machinery invites you to feel the pulse and heartbeat of our industry together. LYROAD Machinery will also showcase JNW series asphalt mixing plant, JJW series asphalt mixing plant,LB series asphalt batch mixing plant, ELB eco-friendly series asphalt mixing plant, YLB series mobile asphalt mixing plant,DHB asphalt drum mixing plant and other products to the world.The self-developed technological patents has made the performance of asphalt mixing plant of LYROAD Machinery better than others.We can greatly meet the diverse road construction demands.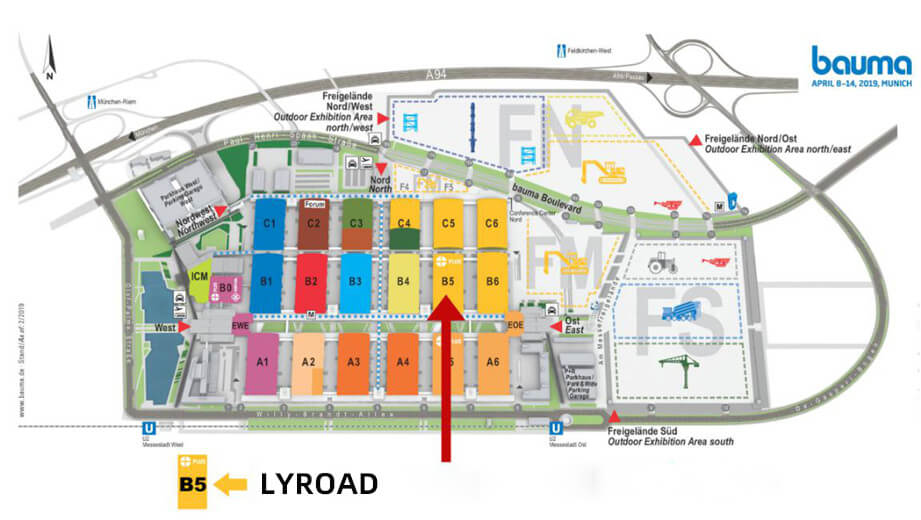 Booth B5-202H welcomes your presence and experience. LYROAD Machinery will present you with a figure of an advanced and pragmatic leader in machinery manufacturing industry. LYROAD Machinery is looking forward to grasping cooperation opportunities and composing a chapter of friendship together with new and old customers at Bauma Munich 2019.
Some Tips for visiting Bauma Munich 2019
1.Visiting time is 09:30-18:30 from April 8th to April 12th (Monday to Friday);Visiting time is 08:30-18:30 on April 13th (Saturday) ; Visiting time is 09:30-16:30 on April 14 Day (Sunday)
2.Bauma Munich 2019 is divided into 4 exhibition sectors—All around construction sites,Mining, extraction and processing of raw materials,Production of building materials,Components and service suppliers.B5, in which LYROAD Machinery's booth is located, belongs to exhibition area of mining, extraction and processing of raw materials.Our booth is located in the northeast of the entire indoor exhibition hall.