LYROAD Machinery, best asphalt plant manufacturer, asphalt drum mix plant, asphalt batch mix plant, mobile, mini, asphalt mixing plant for sale in Thailand. LB, YLB, ELB, JJW, JNW, DHB, MDHB, RLB series, capacities from 8tph to 400tph, low asphalt plant price in Thailand, with CE and EAC certificate, exported many asphalt plants to Thailand since 2012 and the most popular asphalt plant exporter.
Since the implementation of Thailand's Infrastructure Development Plan 2020, the development speed of transportation infrastructure in Thailand has been significantly accelerated and it gained enormous results. However, the goal of building a land transport network to connect the main economic zones and cities in the region and neighboring countries has not yet been realized, there are still unparalleled opportunities. In 2017, Thailand Transport Ministry drafted a 20-year transportation system development strategy plan. The plan proposes to interconnect railways, highways, and waterways, from which we can conclude that Thailand's transportation infrastructure is about to be upgraded and enhanced, and a lot of opportunities will be placed in front of Thai road construction practitioners and road construction machinery investors.
Thailand is an important country in CAFTA (China-ASEAN Free Trade Area). Through such a free trade zone, goods, and service trade between Thailand and China has become very free and convenient. According to the Goods Trade Agreement signed between China and ASEAN, the tariffs on imports and exports between Thailand and China are reduced, and the products are cheaper and more affordable.
LYROAD Machinery established extensive cooperative relations with Thai customers as early as it embarked on the international market. Up to now, more than 40 sets of asphalt mixing plants for sale manufactured by LYROAD Machinery have been exported to Thailand, and the number is far ahead in peer companies of China. LYROAD Machinery has a wealth of experience and can help Thai customers solve various problems. So choosing LYROAD Machinery equals not only choosing good products that can continually make profits for you, but also choosing all our good services.
Our asphalt plants for sale in Thailand enjoy advantages of stable performance, reasonable price, and excellent after-sale service. We supply more than 60 models of asphalt mixing plants for sale in Thailand, and actually, it's can be seen from our sales data that LB series asphalt plants, our flagship series, is meanwhile the bestseller in Thailand. The choice of Thai customers is slowly moving towards diversity, which is concluded by the fact that sales of other series are growing rapidly in the recent few years.
Cases of Our Asphalt Plants in Thailand for Reference
As stated previously, LB series, especially LB1500 asphalt plant, wins warm praise from Thai customers. Why? The reason is that LB1500 asphalt plant's comprehensive performance can fully meet most of road construction projects in Thailand. In addition, its affordable price earned itself a good name.
| | |
| --- | --- |
| Plant Location | Thailand |
| Installation Date | 2014.08 |
| Model | LB1500 Asphalt Mixing Plant |
| Type | Batch Mix / Hot Mix |
| Capacity | 120TPH (Standard Working Condition) |
| Mixer Capacity | 1500kg/batch |
| Drying Drum | 1800X8000mm(Max Capacity: 140TPH) |
| Dust-collector | Volute Casing Collector + Baghouse Dust Collector |
| Filler Bin | Capacity: 30m³ |
| Bitumen Tank | Capacity: 30t |
| Heavy Oil/Diesel Tank | 10000L |
| Circular Vibration Screen | 4 deck & 7stage |
| Hot Aggregate Storage Hopper | 4+1 rooms, 30m³ |
| Aggregate Conveying Belt | 600*16000mm(Max Capacity: 140 TPH) |
| Hot Aggregates Elevator | Capacity≥120 TPH |
| Finished Mixture Storage Bin | Volume:35m³ |
| Cycle Time | 45s |
---
News about Our Asphalt Plants Exporting to Thailand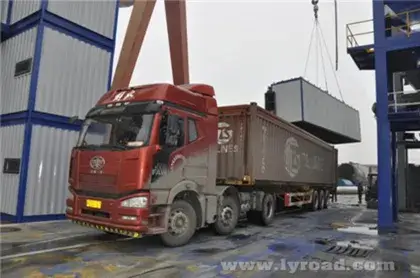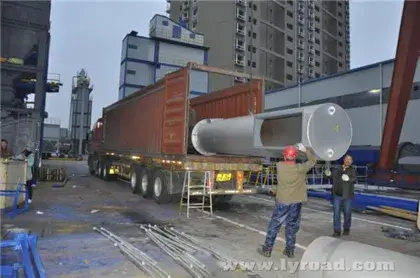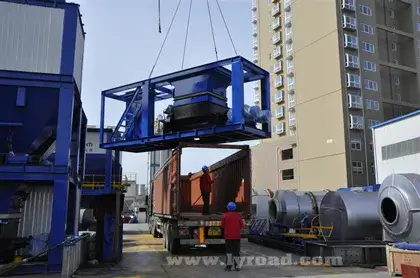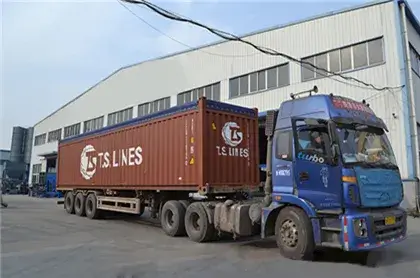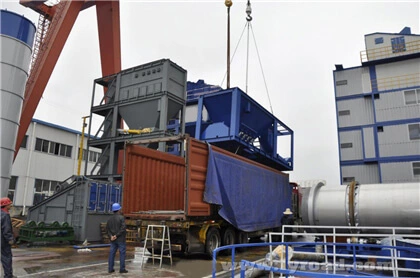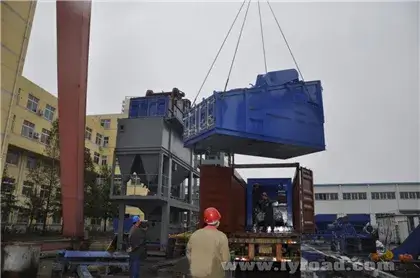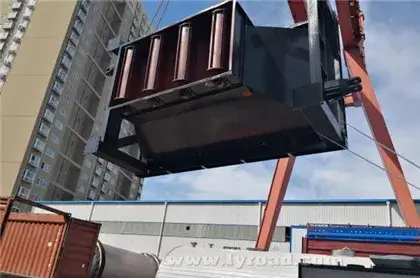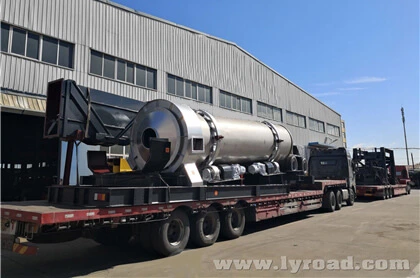 Thai Customers Visiting LYROAD Machinery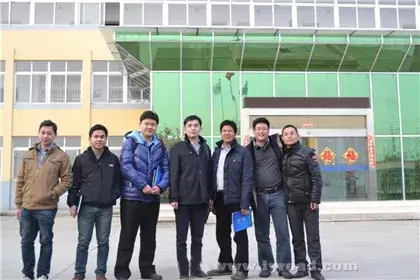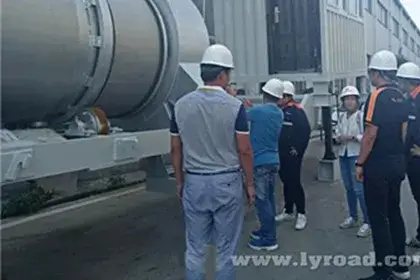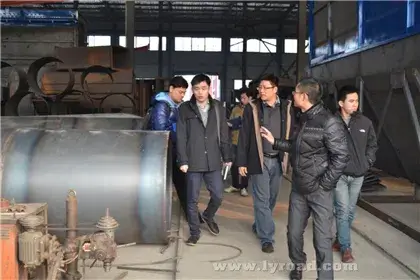 Tips for Buying Asphalt Plant for Sale in Thailand
1. Mode of Transportation
It takes 7-10 days to transport our asphalt mixing plant for sale in Thailand by sea from Qingdao port to Bangkok port. The duration is shorter than that of shipment to other countries, so you don't have to wait for a long time.
We always welcome your inquiry for more detailed shipping information.
Contact Us For More Detailed Shipping Information
2. Dust Collector Configuration
It's common to see that our asphalt plants in Thailand equip themselves with volute casing collector and baghouse dust collector respectively used as level one and level two of dust removal system. Cyclone filter plus water dust filter is also fine. This combination costs less and can meet Thai environmental policy requirements, though its environmental protection effect is not so good as the combination of volute casing collector and baghouse dust collector.
3. Fuel
The burners used on our asphalt plants for sale can full into five kinds, and they are coal burner, diesel oil burner, natural gas burner, heavy oil burner and multifunctional burner. Coal burner was very popular in Thailand in past few years, but now diesel oil burner becomes increasingly accepted. Both of them are in common use in all walks of life of Thailand.
while determining what components should used in drying system, you can choose diesel oil burner or coal burner, but you can also opt for a multifunctional burner that uses either diesel oil or coal as fuel. Tell us your option, and we will customize it as your requirement.
Please Tell Us What Burner You Want
4. After-sale Service
1. Our asphalt plants for sale all have one year's warranty, and we're in charge of all the repairs caused by quality problems happening during the warranty period. You are still entitled to enjoy our after-sales service for life even though asphalt plants pass their warranty date.
2. We will do our best to help you solve problems you may encounter in the process of customs clearance. According to the Goods Trade Agreement signed between China and ASEAN we refered before, the importers can enjoy tariff preference if they issue the FORM E certificate provided by the exporters. Thailand is one of the ten members of CAFTA, you, as importer of Thailand, certainly will enjoy this right.
So please tell us if you need FORM E certificate whose full name is ASEAN-CHINA Free Trade Area Preferential Tariff Certificate of Origin FORM E, we will apply for it over the asphalt plant you buy from us.
3. Experienced technicians will be sent to your location to finish install and commissioning work. One of their main duties is to train your local operators how to run the asphalt plant rightly. We will also prepare a lot of wearing parts before shipment, and we will deliver them to you by airplane in case you use up some kind of wearing parts. It will take 2 or 3 days to reach your place.
4. We entered Thai market earlier and exported more asphalt mixing plants to Thailand than others. Many local operators who received asphalt plant training first time from our engineers have grown to be technicians. They all maintain close relationships with us, so if there is any problem with your asphalt mixing plant, we will immediately coordinate the local technicians to solve the problems. The downtime or production reduction time of your asphalt plant will be shortened to a minimum.