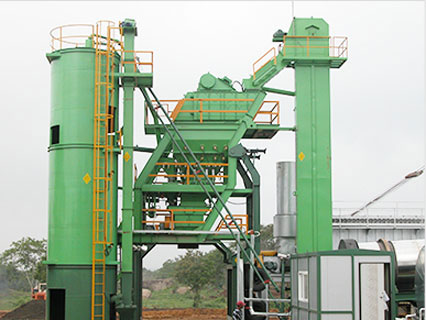 MB Mobile Asphalt Mixing Plant
Model:

MB500 ~ MB2000
Production Capacity:

40 t/h ~ 160 t/h
Highlights:

Mobile plant, compact design, quick assembly, less foot print.
Introduction Parameters Systems

MB asphalt mixing plant is developed with basic concept of mobility with ease of production with efficiency even in harsh environment. Each unit is mounted on wheels. Assembling and dismantling each takes 2-3 days and requires less time and cost. Very compact design ensures minimum foot print for the plant and can be installed in small layout. It has high mobility & productivity at batch mixing system. The mobile asphalt mixing plant is the most popular not only in small project, repairs and highway maintenance works as well as long country road paving.
Model
Capacity
Mixer Capacity
Air Emission
Fuel Consumption
Weighing Precision
Operation
MB500
40t/h
500 kg
≤20 mg/Nm³
5.5-7 kg/t
Aggregate: ±0.5%
Filler: ±0.2%
Bitumen: ±0.25%
Manual/Semi-auto/Auto
MB800
64t/h
800 kg
≤20 mg/Nm³
5.5-7 kg/t
MB1000
80t/h
1000 kg
≤20 mg/Nm³
5.5-7 kg/t
MB1300
104t/h
1300 kg
≤20 mg/Nm³
5.5-7 kg/t
MB1600
128t/h
1600 kg
≤20 mg/Nm³
5.5-7 kg/t
MB2000
160t/h
2000 kg
≤20 mg/Nm³
5.5-7 kg/t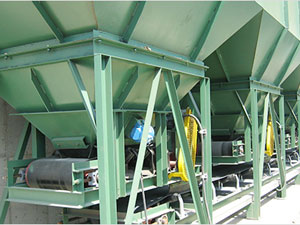 1. Aggregate supplying system
Big and sturdy structure and provides accurate raw material feed by applying inverter speed controller.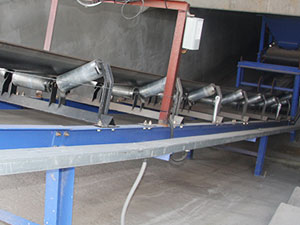 2. Belt conveyor
Considering the durability of rotating parts, we have used high-quality parts so the transport capability is excellent and the life cycle has been extended.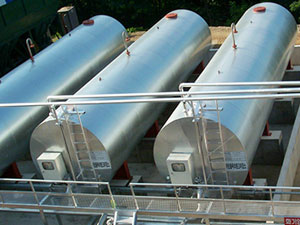 3. Bitumen tank
①. Manufactured in horizontal and vertical types and the bitumen heating method is oil burner or electric heater;
②. The exterior is insulated by using insulation material so it guarantees heat saving.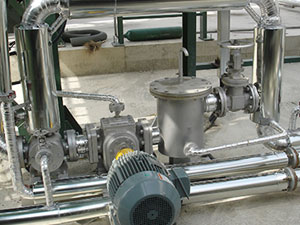 4. Bitumen supply
This is supplied with a strong gear pump and the instrument is in suction-release spray type, which is excellent in accuracy and made to enable the use of reformed bitumen.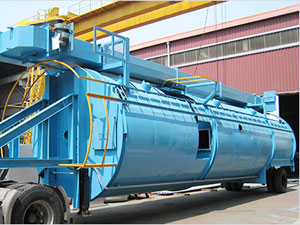 5. Filler silo
①. Big storage capacity and various types of silos are installed so any type of mixture design is possible for production;
②. Protection device to prevent environmental pollution is installed to maintain the surrounding environment clean.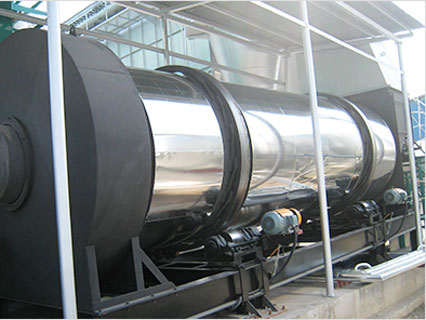 6. Aggregate heating system
①. The aggregate heating burner has a unique nozzle design and 3-way screw high pressure pump for fuel-injection so it minimizes fuel consumption and use of various fuels such as diesel, heavy oil, gas, etc. is possible;
②. The dryer has a longer life due to the use of high-temperature special alloy steel with a drum insulated with a ceramic insulation, and the multi-step dryer guarantees excellent drying and heating performance so it is excellent in conserving production energy.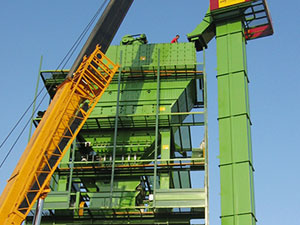 7. Hot aggregate elevator
The hot elevator prolongs transport performance and life cycle with heat treated special chain and reinforced bucket and has a prevention device for power outage during operation.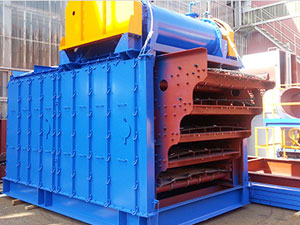 8. Vibration screen
The vibrating screen adopts the top-head method to control bearing damage due to high temperature so it can do fast and easy maintenance and is known for excellent aggregate selection performance.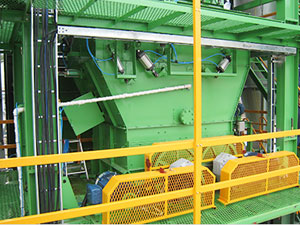 9. Hot bin
①. The hot bin stores high volume aggregates for each standard to guarantee continuous production and have a leveller and liner installed to ensure abrasion resistance;
②. The scale unit has a special gate for each material installed to achieve an accurate measurement value and the electrical load cell uses high-quality products with perfect dust/water protection to ensure stable production.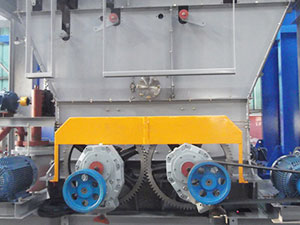 10. Two-shaft mixer
Due to the specialized arm equipment for mixing and twist angle of the tip, it can produce best quality asphalt fast.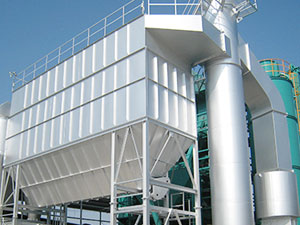 11. Dust collecting system
①. In the first stage, either dry cyclone or skimmer is applied to protect the filler bag of the 2nd dust collector and we use the best quality material for the bag to process the air pollutant generated during production;
②. We install screw conveyor as well as a bucket elevator or a pneumatic conveyor in order to make an environment-friendly plant without any emission of pollutants.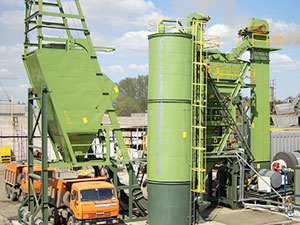 12. Hot asphalt silo
This asphalt silo helps to minimize queue time of dump truck, completes loading in short period of time and eliminates plant idle time. As a result, continuous asphalt production as well as stabilization of asphalt by applying inert gas and special sealing and heating equipment of the silo, it enables a long term product storage, thereby enabling shipping asphalt that has been produced and stored during day time without any noise pollution during night time without operating the asphalt mixing plant.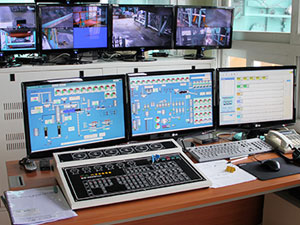 13. Control system
Most advanced control system with durable electric system. Complete electric device system and plant control system are controlled via Window system screen, with high level of visual reliability and user friendly operation. With proven control system, smooth and trouble free operation in Manual, Semi-automatic and fully Automatic mode, any service or trouble shooting can be done via remote control system.
Your inquiry will be replied within 24 hours.