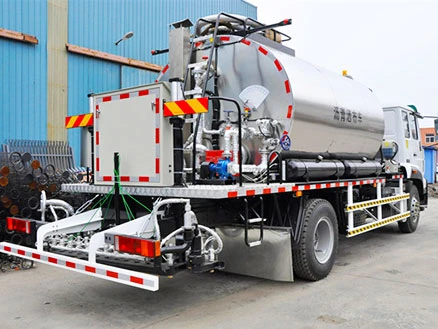 Asphalt Distributor Truck
Model:

LY-GLQ

Tank Capacity:

4,000L ~ 12,000L

Spray Width:

2,400mm ~ 6,000mm

Highlights:
Consistent and uniform spraying;
Intelligent control,ease of operation.
Get Price
Brief Introduction
Asphalt distributor is a kind of truck-mounted road construction and maintenance equipment that is designed to accurately distributing/spraying different kinds of asphalt materials, such as hot asphalt, asphalt emulsion, modified asphalt, asphalt rubber, etc. Asphalt distributor is mainly used for upper and lower seal layer, premier layer, asphalt surfacing, asphalt penetration surfacing, fog seal layer and other road surface processing; it can also be used for storage and transportation of liquid bitumen or heavy oil.
Product Parameters
Model
LY5090GLQ
LY5110GLQ
LY5160GLQ
LY5250GLQ
Chassis Brand
JAC
DONGFENG
DONGFENG/HOWO
HOWO
Engine Power
125HP
140HP
180HP
290HP
Asphalt Spray Rate
0.25-3.0L/m2
Asphalt Tank Volume
4,000L
5,500L
8,000L
12,000L
Spray Width
4,500mm/6,000mm
6,000mm
Number Of Nozzles
33/39
33/39
39
39
Asphalt Heating Mode
Heat conduction oil heating
Overall Size (L×W×H)
7380×2250×2650mm
8995×2490×3160mm
11260×2490×3690mm
Your inquiry will be replied within 24 hours.