Asphalt Rubber Plant
Model:

LYXL1606, LYXL3515
Product Capacity:

6 t/h ~ 15 t/h
Highlights
Producing stable and reliable crumb rubber asphalt;
Containerized structure, ease of transportation.

Brief Introduction of Asphalt Rubber Plant
LYXL Series asphalt rubber plant is used to produce rubberized asphalt concrete (RAC). Rubberized asphalt is a special pavement material consisting of approximately 75-80 percent regular asphalt with 20 percent (+/-2%) crumb rubber made from scrap tires. Rubber asphalt overlays on road surface make road smoother, effectively reduce traffic noise and prolong road service time, having bright future and wide application in highway construction. Meanwhile, rubber asphalt plant recycles a large number of scrap tyres, helping to save resources and reduce pollution.
Working Principle of Asphalt Rubber Plant
Crumb rubber made from scrap tires is loaded into the hopper before mixing begins and must be replenished during the mixing process. Next the screw conveyor carries the crumb rubber to the mixing chamber. Then, the crumb rubber is blended with virgin asphalt by a high shear mixer running at a speed of 3400 rpm. As the materials are mixed, they are pumped to the portable holding tank. During the mixing process, fresh materials are continuously fed into the chamber until the required volume of material has been mixed.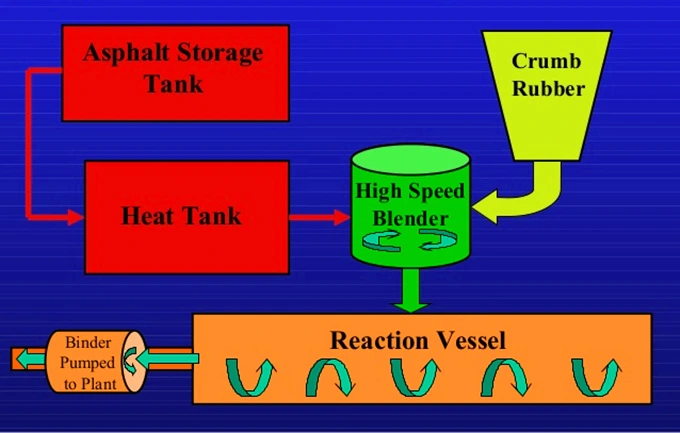 The Role Asphalt Rubber Plant Plays in Road Construction Process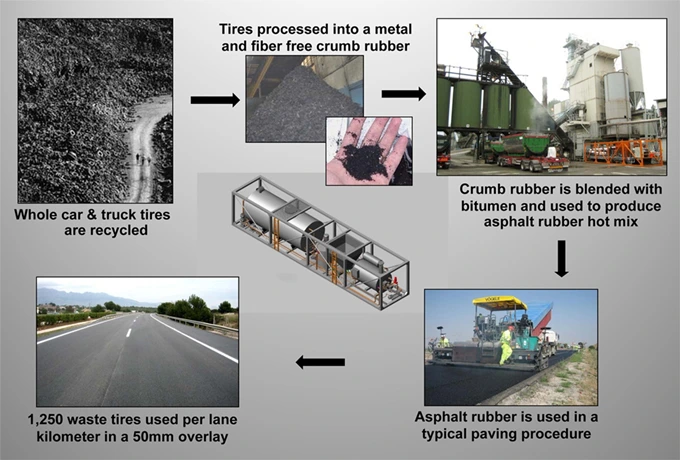 Model
LYXL3515
LYXL1606
Productivity
10~15 t/h
6 t/h
Installed power
150kW
125kW
Heating device
Heating capacity
1,250,000kcal
800,000kcal
Heat exchange area
2x32m²
1x32m²
Heat exchange coefficient
(20t/h)60℃
(20t/h)50℃
Measuring accuracy
±0.5%
±0.5%
Rubber feeder
Screw conveyor capacity
10m³/h
10m³/h
Measuring accuracy
(rubber powder)
±0.5%
±0.5%
Base asphalt system
Max. flow rate
1300 LPM
1300 LPM
Mixer
Rotart speed
2900 rpm
2900 rpm
Drive motor
11kW
11kW
Mixing capacity
≥40m³/h
≥40m³/h
Reaction kettle
Asphalt rubber pump capcacity
≤40m³/h
≤40m³/h
Burner capacity
2*20*104
1*20*104
Kettle capacity
2*17.5m³
1*17.5m³
Agitator speed
198 rpm
198 rpm
Agitator drive motor
2*11kW
1*11kW
Reaction kettle dimension
L*W*H (mm)
10700x2500x2900
11200x2500x2900
Heat transfer oil
furnace dimension
L*W*H (mm)
6800x2500x2800
6000x2500x2800
Control room dimension
L*W*H (mm)
3000x2500x2600
/
Main Features of Asphalt Rubber Plant
1. Compact frame structure, ease of transportation; intelligent control, convenient for operation, ensuring stable and reliable performance.
2. Advanced process technology, adopt American McDonald Technology.
3. Powerful heat transfer oil heater and large area heat exchanger, reaction kettle is heated rapidly, ensuring the quality of finished rubber asphalt.
4. High-performance homogenizing devices in tanks prevent material from segregation, precipitation, and swelling.
5. Accuracy of the weighing system is less than 2%, the proportion of crumb rubber powder is adjustable.
6. Production volume of each cycle can be set freely within the maximum productivity.
7. Tanks are made by anti-corrosion stainless steel with good heat insulation device, static insulation index is ≤12℃/8h.
8. Stainless steel plates are adopted for packaging for corrosion resistance.
Your inquiry will be replied within 24 hours.