Bitumen melter is a piece of equipment that is specially used to heat and melt the bagged or drummed solid bitumen. The melted bitumen can be applied for asphalt plants to produce asphalt mix, as well as other industrial purposes. Generally speaking, Bagged bitumen melter is quite common to see in countries of the colder climate, like Russia. While in the areas of lower latitudes, drummed bitumen melters are compelling.
Composition of A Bitumen Melter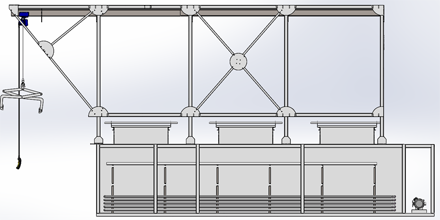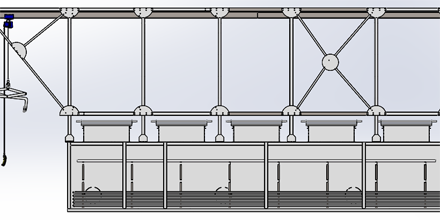 The bagged bitumen melting equipment can be divided into four parts, the melting chamber, the hoisting unit, thermal oil furnace, and pipelines.
1. The Melting Chamber
The melting chamber is composed of 3 or 5 feeding ports and a heating chamber and adopts a skid-mounted structure, which is convenient for transportation and relocation. A heat-conducting oil pipe is arranged under the unloading port, and a high-temperature heat-conducting oil pipe is arranged in the heating chamber for rapid heating of bitumen.
2. The Hoisting Unit
The hoisting unit is mainly composed of a hoisting support and an electric hoist. It adopts an assembled structure and is completely connected by bolts for easy transportation.
3. Thermal Oil Furnace
Thermal oil is heated by the thermal oil boiler and then circulate into the melting chamber, transferring heat to melt solid bitumen.
4. Pipelines
Seamless pipelines carry the thermal oil from the heater to the heating unit.
Working Flow of Bagged Bitumen Melter
Turn on the thermal oil furnace
Transport the bitumen in bags directly to under the lifting equipment
Manually remove the bag package, and use special clamps to clamp the block-shaped bitumen
Activate the electric hoist to lift and then move the bitumen laterally to the top of any feeding port
Open the hatch, put the blocks into the melting chamber
The solid bitumen is divided into several small blocks by heat and drops into the heating chamber
The high-temperature thermal oil pipe therein melts the small blocks into liquid bitumen
Pump the liquid bitumen to a storage device for usage.
Precautions of A Bitumen Melter
Set up the foundation in compliance with the drawing provided by the manufacturer, if necessary.
Inspect the pipelines, valves, thermal oil furnace, etc. of the bitumen melter prior to the first use.
By all means to keep the heating trough clean and the outlet tube smooth.
Give the thermal oil furnace and other components' maintenance periodically.
Observe the heat exhaust pipe frequently, handle it immediately any time a leak or anything like that appears.
In the end, let's have a look at the real work scene of one 3-feeding-port bitumen melting machine through a picture taken in Russia.
| | |
| --- | --- |
| Feeding Ports | 3 |
| Hoisting Capacity | Maximum lifting weight 2T |
| Hoisting Height | 3m |
| Bitumen Pump Flow Rate | ≧24m³/h |
| Melting Capacity | ≧6t/h |
| Dimention of Hoisting Unit | 12 * 2.2 * 4m |
| Thermal Insulation | 50mm rock wool plus sheet |