JJW4000 premium hot mix equipment, the most cutting-edge asphalt concrete making facility, adopts vertical drying craft, synchronized decrement weighing method and is equipped with powerful hot recycling device, so it can greatly save resource, increase output and help you earn more money.
Vertical Drying Craft of JJW4000 Asphalt Plant
JJW4000 asphalt plant abandons traditional drying drum and ingeniously uses two vertical drying towers respectively for drying fresh aggregates and recycled aggregates. The vertical drying tower has many advantages, such as small footprint, low operating cost and good energy saving effect.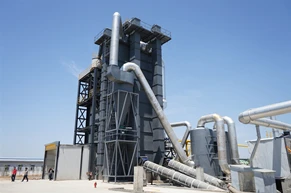 1. Compared with horizontal drying drum, the vertical drying tower can save electricity consumption by 60 KW/h, and there is also no need to manually add lubricant to the speed reducer and others. All of these can lower production cost to a large degree and save customers a lot of money.
2. Vertical drying tower has better sealing performance, lower heating energy consumption and more heat utilization.
3. Vertical drying tower has a simple structure, and its reliability and stability get enhanced very much, which leads to low maintenance cost.
4. A far-infrared temperature measuring device is set at the discharge port of the vertical drying tower, through which the material temperature can be controlled in real time.
Synchronized Decrement Weighing Method JJW4000 Asphalt Mixing Plant Adopts
Synchronized decrement weighing method is a patented technology independently developed by LYROAD Machinery. With this ultra-precise weighing method, the "oil-stone ratio" deviation can be minimized, hot aggregates and bitumen can be utilized to a maximum extent, and the quality of the finished mixture hence becomes more controllable.
1. Hot aggregates is weighed by synchronized decrement weighing method before entering the mixer, which successfully minimizes the weighing error and greatly improves the measurement accuracy of hot aggregates. The actual dynamic accuracy is effectively controlled within 1%, and the national standard is 2.5%.
2. Bitumen supply tracks the "oil-stone ratio" in real time. Synchronized decrement weighing method is adopted before bitumen's spraying, and the dynamic measurement accuracy of bitumen is effectively controlled within 0.8%, and the national standard is 2.5%.
Environmentally Friendly Design of JJW4000 Asphalt Plant
Dust can't be seen at the job site of JJW4000 asphalt plant, and that is closely related to the following environmentally friendly technologies:
1. Accurately control the ratio of cold aggregate supply and hot aggregate margin to achieve "zero" storage in the hot silo after production, which completely solves the serious pollution caused by the dust generated by the discharge of hot aggregates at the end of production.
2. All parts, such as aggregate feeder, belt conveyor, mixing tower, intermediate filter screen, driveway, etc, are fully enclosed. Induction door is used in the loading chamber. It is automatically opened when transportation vehicle approaches, and automatically shuts off after transportation vehicle enters or leaves away.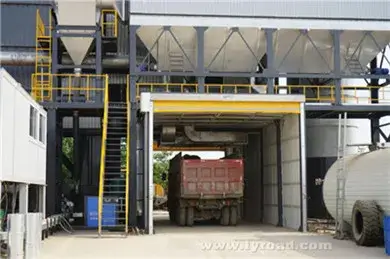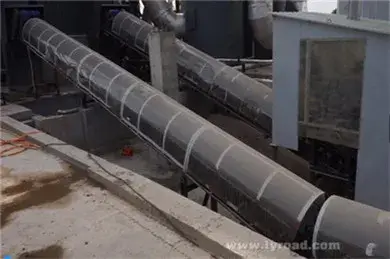 3. A smoke removal equipment is specially designed on the top of the loading chamber. The spilled asphalt smoke in the discharge process is quickly sucked away and transported to the drying drum for heating decomposition so that the pollution caused by the asphalt smoke in the process can be eliminated.
4. Apply noise reduction device, sound insulation device and shock absorption device to places where noise is easily generated, which will significantly reduce noise emissions and eliminate the environmental impact of noise.
5. Dust removal system is more scientific, reasonable and ingenious. Under the action of the induced draft fan, dust and asphalt smoke that come from the aggregate feeder, drying tower, vibrating screen, mixing tower, loading chamber, etc.are filtered by a first-stage cyclone dust collector, and the remaining dust and asphalt smoke is once again subjected to baghouse dust collector. After humidification, they can be recycled. The dust and asphalt smoke generated during the drying process of the recycled material shall be dedusted by two consecutive water dust collector to remove sulfides and then go into the combustion process. The overall dust emission is effectively controlled within the international standard of 20mg/m³.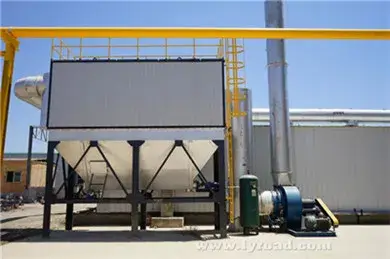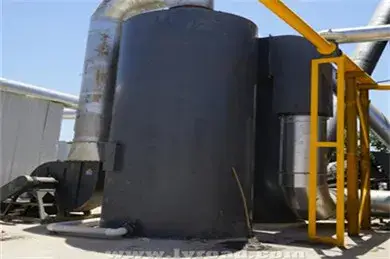 6. The recycled powder is treated by concentrated storage and humidification and agitation to completely solve the pollution of the on-site environment.
Click to View More Environmental Protection Design of Asphalt Plant Manufactured by LYROAD Machinery
Hot Recycling Device Added to JJW4000 Hot Mix Plant
The recycled asphalt recovery system with 160t/h processing capacity makes this JJW4000 hot mix plant more "all-round".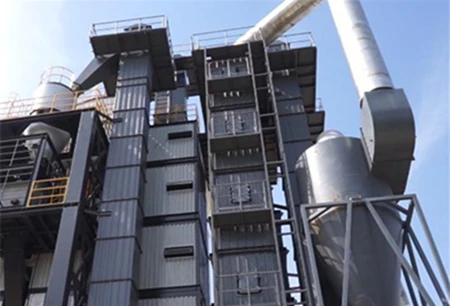 1. The proportion of recycled asphalt can reach up to 50% and the output-to-input ratio is significantly improved. That means JJW4000 hot mix plant can make full use of waste resources and reduce waste of resources.
2. RAP (Recycled Asphalt Pavement) feeder, RAP elevator, RAP drying tower, and first-stage cyclone dust collector constitute a relatively independent system, therefore operation is quite easy.
3. Full automatic control by the computer on the air flow through the control of the dampers and the temperature monitoring by the thermometer at various positions, bringing the recycled material to the ideal temperature for the mixing with the virgin material; avoiding aging asphalt or asphalt burning.
JJW series asphalt plant has outstanding merits and obvious advantages. It can achieved amazing results in energy saving and environmental protection, greatly reducing production costs, meanwhile it is proved that JJW series asphalt plant can increase the output by a large degree. That is to say, it will help the owner earn more money.
LYROAD Machinery dares to lead the trend and persists in innovating without slackening. In recent years, we have successively produced fist products such as JNW series and JJW series asphalt plants.Our product passed the ISO9001 and ISO14001 quality management system certification as early as 2008, and in 2010 we also won the CE certification to open the European market and GOST certification to open the Russian market.
Since 2010, LYROAD Machinery, a leader of China asphalt plant manufacturers, has exported more than 400 sets of asphalt plants to more than 80 countries and regions around the world, and achieved great results. Today, the pace of LYROAD Machinery marching to the high-end market is accelerating. At the Bauma Munich 2019, JJW series asphalt plant gained recognition by people in the European and American markets, and we believe that it will become a key for LYROAD Machinery to open the door to the European and American markets.