How Much Does An Excavator Cost?
The full-sized excavator price falls into the wide range between $80,000 and $500,000, while a mini excavator with an operating weight under 10t costs anywhere from $20,000 to $90,000. The demolition excavators, also the large-sized ones usually seen in mining and alike, run beyond $500,000, even up to $7,000,000. Moreover, the used excavators cost 30%-60% of the new counterparts. The above figures are revealed by the 2020-2021 customs data.
Be it a construction contractor or an individual, the price of excavator is of the utmost importance for them, especially when they regard the digging machines as part of long-term investment. Based on the latest customs data, we have conducted a series of price analyses, hoping to present a valuable overview of the global excavator market. We'll be more than happy to respond to you on whatever inquiries concerning this crucial issue.
Different-sized Excavator Prices
| Excavator | Operating Weight | Price |
| --- | --- | --- |
| Mini | Under 10t | $20,000 ~ $90,000 |
| Full Size | 10t ~ 50t | $80,000 ~ $500,000 |
| Large | More Than 45t | Over $500,000 |
Top Brand Excavator Prices
| Brand | Model | Price (Approx.) |
| --- | --- | --- |
| Caterpillar | 330 | $224,000 |
| Komatsu | PC390LC-8MO | $215,000 |
| John Deere | 380G LC | $229,000 |
| Volvo | EC220 | $110,000 |
| Hitach | ZX350LCH-5G | $237,000 |
| Hyundai | R220L | $95,800 |
| Sany | SY215C | $82,200 |
| Kobelco | SK210LC-10 | $101,000 |
| Doosan | DX180LC-5 | $108,000 |
✮ The above results come from 2020-2021 customs data
Drop Us An Email For Prices of Certain Brands or Models
Excavator Price in Peru
Range from $77,500 to $299,000. Popular Brands: Caterpiller, Komatsu, Hitachi, Hyundai, Volvo, Sany. The used ones account for a certain proportion.
Excavator Price in Chile
Range from $55,200 to $6,756,300. Popular Brands: Komatsu, Kubota, Caterpiller, Loongsheen, Vovlo, Doosan, Yanmar. The new and the used are mixed.
Excavator Price in Argentina
Range from $20,000 to $250,000. Popular Brands: Michigan, Taurus, SDLG, Liugong. About one out of six Excavators are imported from China.
Excavator Price in Nigeria
Range from $100,000 to $250,000. Popular Brands: Caterpiller, Hitachi, Volvo, Komatsu, Sany. Medium-sized track hoes of top brands are their first choice.
Excavator Price in Bangladesh
Range from $20,000 to $100,000. Popular Brands: Kobelco, Sany, Volvo, JCB. About half is the second-hand ones.
Excavator Price in Zambia
Range from $53,000 to $208,000. Popular Brands: TATA Hitachi, Volvo, Komatsu, Sany. Used diggers take up a not small proportion, prices varying from $53,260 to $80,300.
Excavator Price in Sri Lanka
Cost under $10,000. Popular Brands: Yanmar, Kobelco, Mtsubishi, Sumitomo, Ishikawa, Furukama. Almost all of them are second-hand.
Excavator Price in Ethiopia
A median price of under $20,000. Popular Brands: Case, Shantui, Liugong, Volvo. Chinese brand excavators are more and more often to see on job sites.
Excavator Price in South Africa
Excavators for sale in South Africa cover almost all the top brands, and some local manufacturers produce diggers of their own brands or are doing OEM for well-known companies. The users of South Africa choose medium-price diggers more.
Apart from the countries mentioned above, welcome to contact us anytime if you need to know the specific information about track hoe price in Ghana, Kenya, Rwanda, Tanzania, Uganda, United Arab Emirates, Egypt, Algeria, Fiji, Indonesia, Australia, Malaysia, the Philippines, Singapore, Thailand, Zimbabwe, etc.
Drop Us An Email For Excavator Prices In Different Countries
Since the outbreak of the COVID-19 epidemic, all industries have experienced more or less impacts, and the excavator industry is no exception. The rapid rise in raw material prices and the dramatic increase in transportation costs, especially the cost of transnational freight, have caused great fluctuations in the global market. So how does the status quo of digger price like? The customs data of dozens of countries should be able to tell us the answer. We will analyze customs data from various angles in an effort to obtain a more accurate result. Please share and forward this informative post to your social media accounts. It will become a helpful reference for those who plan to buy excavating machines.
How Much Does It Cost to Buy A New Excavator?
In order to get an in-depth view on this issue, we categorize the digging machines for sale based on the size, brand, region, use, aiming to provide you with a relatively accurate purchase reference. One point needed to keep in mind is that the price here only refers to the sales price of excavators, not the rental price. Excavator rental is another story.
Mini, Full-sized, Large
1. Mini Excavator Price
Mini excavators, also named compact track hoes, are included in the earth-moving equipment lineup of all giant brands, like Cat, JCB, Komatsu, John Deerer, Volvo, Hyundai, Hitachi, Case, Takeuchi.
So far, there has been no consensus about what size can be considered as mini. The more unanimous opinion currently is that mini diggers (including compact ones) have an operating weight under 10 metric tons. The bucket can always be replaced with other attachments to tackle any job, so we don't take bucket sizes or digging depth as a criterion like some others do.
Here is a price guide for buying branded mini excavators.
Mini excavators with operating weight under 4 tons cost somewhere from $20,000 to $40,000.
Mini excavators with operating weight between 4 tons and 8 tons are sold for about $60,000.
Mini excavators with operating weight between 8 tons and 10 tons will cost you less than $90,000.
2. Full-sized Excavator Price
Full-sized, also called standard excavating equipment, are the mainstream on the market, making up the largest proportion. They are also the ones most common to see on construction sites, operating weight of which falls into the range of 10 tons to 45 tons.
Based on our analysis of customs data for the past two years, we can easily conclude that the prices of full size diggers concentrate massively between $100,000 and $300,000, taking up 80%, and the rest scattered between $300,000 and $500,000.
Customs data shows price conditions of full size excavators as follows.
Full size excavators with engine power between 100HP and 200HP were sold for $80,000-$180,000.
Full size excavators with engine power between 230HP and 400HP go with the prices within $350,000.
Full size excavators with engine power larger than 400HP and high-level configurations have the price reached $500,000 or more.
3. Large Excavator Price
The larger excavators are appliable to large construction and demolition projects that require maximum power and digging capacity.
It is generally acknowledged that those with operating weights more than 45 tons can be called large track hoes. Those mostly seen in special application scenes like mining come with astounding operating weight, the largest of which reaches 1,000 tons or more. So you can see the range of large track hoes is also large. The large ones for sale cost more than $500,000 according to the data of 2020 and 2021. Customs data shows one Liebherr super-large track hoe exported from France to Chile cost about $6,756,300. What a stunning price!
Want to know the price details of one certain size excavator of any well-known brand? Contact us by email or phone, and we will reply to you with full readiness.
Contact Us For More Detailed Info. About Excavator Prices
Top Brand Excavator Prices
We keep our eyes on the top brands, including Caterpillar, Hitachi, Volvo, Hyundai, Komatsu, Liebherr, John Deere, Case, SANY. In order to shed light on how the prices are influenced by the brands, we still resort to the customs data. We here choose South America and Asia as research objects because the excavator importing data of the countries in these areas is quite representative. Plus, we narrow the range down to full-size diggers and pick up the most hot-selling models for each brand.
The FOB prices of hot-selling top brand excavators are shown in one of the above tables.
Excavator Prices in Different Countries
Geographical factor seems to play an insignificant role in the price of the excavating equipment, yet it is not true. Price differences between regions appear to be larger than you thought. What's more, the trend in one area could be contagious, and it could prevail in the whole country or the region in a short period of time.
For instance, the buyers from Pakistan evidently have a preference for Korean brands or manufacturers these years. As our data suggest, nearly four out of five diggers the Pakistani customers purchased in the past two years came from Korea. Doosan, a famous Korean local brand, takes a great share, followed by Volvo diggers manufactured by a Korean company. Interestingly enough, second-hand track hoes they bought occupied ninety percent, with prices refrained within $20,000. Whereas Sri Lankan buyers prefer Japanese brands like Yanmar, Kobelco, Komatsu, Mitsubishi, Sumitomo, Hitachi, which account for more than 90%. They bought used diggers of these brands for less than $10,000 on average.
Don't Forget the Attachments
Any model of excavators, irrespective of the size and brand, are provided with one bucket. To put it differently, the bucket price is included in the prices the suppliers offer to you. Other attachments and accessories are sold separately, and therefore their prices are not included in the primary prices. In case you require, let's say, rakes, blades, or hydraulic hammers, you will have to spend an additional $1,000 to $4,000 for each one.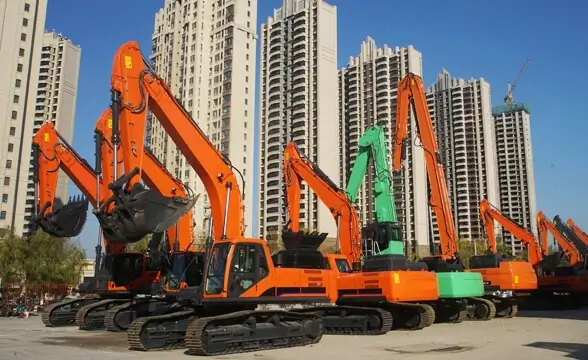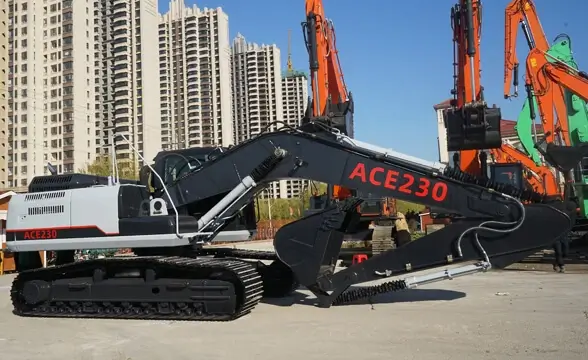 How Much Does It Cost to Buy A Used Excavator?
The used excavating machine has a more complicated price situation. In addition to the many factors above, the service life and current status will also affect their prices. Generally speaking, the prices of used excavators account for 30%-60% of the price of new ones, mainly depending on the age, condition, brand, and other factors.
There is one thing that is needed to be paid attention to. If you don't know much about diggers, or you are only able to drive them but cannot repair them, it is recommended to buy a new one, which will save you much worry. If you know the machines well and even are a master, buying second-hand excavators is indeed a good choice, from which a lot of costs can be saved.
You may take some risks, but used digging vehicles can be well worth the investment if you avoid the following typical mistakes.
4 Mistakes to Avoid When Buying A Used Excavator
1. Ignore calculating whether the used excavator you plan to purchase will be rewarded in a short period of time.
2. Failure to comprehensively consider the applicability and cost of use will cause an investment tragedy.
3. Blindly pay attention to the price and ignore the after-sales service.
4. Too cheap used excavator means high maintenance costs, which will lead to investment failure.
Other Factors That Can Affect Excavator's Total Purchase Cost
Buying a piece of equipment isn't only about paying the purchase price. You will have to spend some money on several other expenses as well. So it's definitely a good idea to consider these tiresome trifles before you make a decision. You should have a clue how they affect your overall purchase cost.
These costs will vary from one machine to another.
1. Transaction fee
Usually, when you buy heavy equipment, you aways need to pay a portion of the price to the manufacturer or distributor. This fee is usually 10% of the product price. However, in some cases, you don't have to pay the money at all. Another point is that the transaction fee rate is based on the purchase price of the machine. Therefore, before you make a transaction, please make sure you understand how much the transaction fee is.
2. Taxes
Taxes must also be factored in when buying. Sales tax varies according to your local regulations, so it is necessary to clarify the policy regarding additional sales tax rates. You ought to take it seriously because it can easily add thousands of dollars to the total cost.
3. Transport
How do you transport the excavator you purchased from the port or somewhere in your country/region to home or to the job site? Most governments do not allow excavators to drive on highways, let alone long distances on highways. If you do not have a large enough truck to safely transport the excavator on public roads, you must take the price of hiring a suitable truck and driver into consideration.
This expense may be much more than you thought before, especially when you have to transport it from the seaport to your location. This is all your business and has nothing to do with the excavator manufacturer or supplier. So you should calculate this expense in advance when calculating the overall purchase cost.
4. Financing
We recommend that you finance your new excavator because it can help you save cash and you can use this cash for other business needs. Most companies and distributors offer financing options to make purchases more affordable. If not, you can apply for a loan from a bank or financial company. The interest rates of different financial institutions vary greatly, and you can choose one according to your credit and asset status.
Before you make a purchase plan, you should also consider this cost. This is particularly suitable for buying a new track hoe. In some cases, it also applies to second-hand track hoe.
There are some other factors that do have an impact on the total cost, such as insurance, but most of them are controllable, and you can evaluate their necessity and potential return before you make the all-embracing decision to buy excavators. Be aware. The truth that devil is in the detail also applies here.