A concrete batching plant, short for concrete plant, is construction material production equipment that combines water, aggregate (rocks, gravel, sand, etc.), cement, fly ash proportionally to create concrete. Concrete plants consist of cement silos, aggregate feeding system, control system, weighing system and mixing system. All concrete plants can be categorized into four types: dry mix plant, wet mix plant, stationary plant and mobile plant.
People have been clearly aware of an increasingly obvious trend around the world — infrastructure construction will once again enter a period of prosperity. Even though so powerful is the United States, the Biden administration recently cast a $2 trillion infrastructure proposal. China, referred to as the "infrastructure madman", will continue to increase its infrastructure construction. Other countries, especially those developing countries with strong economic vitality, will not slacken their efforts to improve infrastructure and serve the people's livelihood. We can see this trend from global hot sales of batching plants in recent years.
Contractors of roads, bridges, highways, high-speed rail and other infrastructure projects and some companies specializing in the sale of concrete mixtures mostly choose local manufacturers. Therefore, concrete batching plant manufacturers in India, South Africa, Australia, Canada, Turkey, Malaysia, China and some other countries have increased year by year. Their manufacturing process, price positioning, product quality, and marketing are so various that buyers need to be cautious, have to investigate more manufacturers and give careful consideration before they make up their minds to purchase construction materials manufacturing equipment.
Top 10 Concrete Batching Plant Manufacturers
Choosing the right manufacturer is always the core of purchasing a batch plant, followed by price, capacity, model, etc. Here we summarize and list the top ten concrete batching plant manufacturers in the world based on production history, manufacturing experience, creativity, brand influence, product reputation and price competitiveness. We hope to give you some valuable reference before you buy the equipment.
1. ACE Group, Avantgarde Vibration Mixing Technique Promoter
Owning the cutting-edge patented vibration concrete mixer, ACE Group fully deserves the position on the league table. The reason is not only that mixer is the most essential component of a concrete production plant, but also it will probably spark a dramatic change to the construction material manufacturing industry.
The unique part of ACE vibration mix concrete plant is the mixer. With specially designed vibrators Installed on the shafts of common twin-shaft mixer, the vibrator generates exciting force while shafts and paddles are rotating, stirring and shattering materials like gravel, sand, cement, fly ash, water and additives. With this impact, cement is free of clot and more solid adhesion with water and other aggregates comes into being.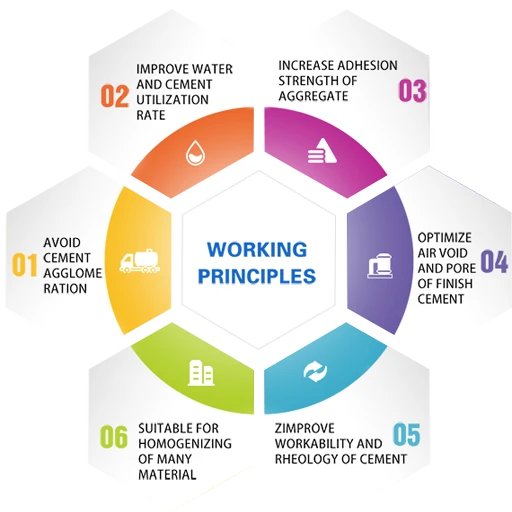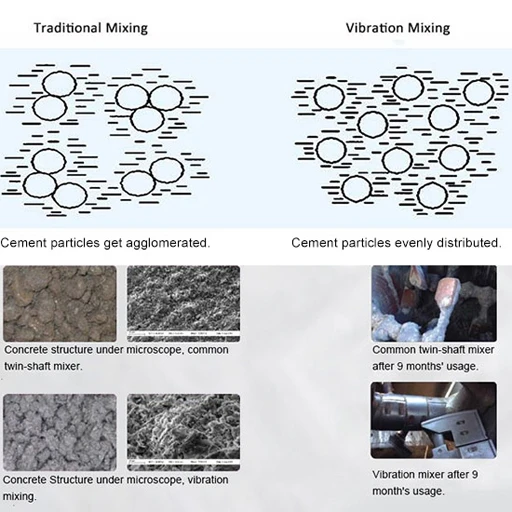 The final mixture of the vibration mix RMC plant can satisfy the diverse requirements regardless of how high-end they are. Because applying vibration mixer can improve the strength of concrete by 8%, reduce the batch circle by 20%, save cement and additives consumption by 5%, and increase concrete structure durability by 50%.
Vibration Concrete Mixer's Advantages
| | | |
| --- | --- | --- |
| Mixer Type | Traditional Twin-Shaft Mixer | Vibration Mixer |
| Homogeneity | Standard | Improved, Less Dispersion Coefficient |
| Interface and Strength | Interface bonding strength are weak, concrete strength is OK. | Interface bonding strength are enhanced, concrete strength increased by 8%. |
| Cement Utilization Rate | About 10% ~ 30% cement powder not hydrate with water and forming agglomeration. | Cement powder fully hydrate with water and evenly distributed, cement utilization rate is improved. |
| Air Voids | Air content of concrete is about 1.8%, air voids are big and of irregular shape. | Air voids are spherical and smaller. |
| Concrete Workability | Meet the basic requirement. | Better adhesion and workability, free of bleeding and segregation. |
| Application Range | Produce common concrete | Produce common concrete and SFRC, UHPC, RCC, CA and other special concrete. |
Those contractors who need to produce or cannot attain a substantial amount of high-class concrete are recommended to make the vibration mix concrete plant the first choice.
Other than the unique plants, ACE Group, one of the leading road construction equipment manufacturers, suppliers, and exporters in China, offers quality asphalt plants, road-building vehicles, dry mortar production lines, and so on.
2. BHS-Sonthofen Group
Headquartered in Sonthofen, Germany, BHS-Sonthofen is an owner-operated group of companies focusing on filtration, drying, mixing, shredding, and recycling. Its DKX series dual-shaft batch mixer is highly recognized in the global market.
3. Liebherr Group
A German company, still managed by the Liebherr family, contains over 140 companies at sites on every continent. Construction machinery it manufactures includes bulldozers, excavators, cranes, loaders, etc., and concrete plant is a small part of its business now.
4. CIFA
One of Italy's largest construction machinery manufacturers, whose principal business includes concrete pump trucks, mixing plants, etc., was later acquired by a Chinese corperate.
5. Putzmeister
Established in 1958, Putzmeister develop, produce, sell high-quality machines for pumping, distributing and placing concrete, mortar and high-density solids, and for preparing, temporarily storing, processing and transporting these materials. It's also acquired by a Chinese corporate.
6. KYC
Main products include mixers, mixing plants, crushed stone production equipment, etc. It has used KYC equipment in some early projects in China, such as the Three Gorges Project. At present, logo of this company is more common in projects in Bangladesh, Nepal and other places.
7. McCrory Engineering
Established in 1979, McCrory Engineering is a registered professional firm delivering a broad range of Engineering, Procurement, Fabrication and Construction services. Its concrete batching plants include mobile, stationary type plant.
8. Wirtgen
Wirtgen Group is an international operating company specializing in construction machinery. It owns Wirtgen, Vögele, Hamm, KLEEMANN and other brands. It is headquartered in Germany and has factories in Brazil, China and India.
9. Meka Group
Founded in 1978, it spans various businesses from marine construction, dredging and reclamation, pipelines, to ports, real estate, information technology and more. With offices in Algeria, Russia, Britain, Morocco, Ghana, Nigeria and other places, it is the largest concrete mixing plant manufacturer in Turkey.
10. Ammann
A multinational company headquartered in Switzerland. Its core products include concrete production plants, asphalt plants, pavers and other equipment. Currently, it has factories in Switzerland, Germany, China, Brazil and other places. Its Elba concrete plant has a long history and is well known in the international market.
Please note that the above concrete batching plant manufacturer's names are not listed in order of size, reputation, market competitiveness and so. It only represents our views about what the best manufacturers look like. But anyway, It's always advisable for buyers to pay a visit to several equipment manufacturers and choose a pleasant partner with excellent cost-effective products offered.
Related Articles
---