Asphalt Batch Mixing Plant
LB Asphalt Batch Mixing Plant mainly including: cold aggregate supply system, drum dryer, burning system, hot aggregate elevator, vibrating screen, weighing system, mixing tower, dust collecting system, filler supply system, bitumen supply system, electronic control system, finished asphalt storage bin…
Dust Collecting System:
I. First grade gravitational dust collector + Second baghouse dust collector;
II. First grade gravitational dust collector + Second water dust collector.
Burning System:
I. Oil burning system; II. Gas burning system; III. Coal burning system; IV. Oil & Gas dual purpose burning system.
Finished Asphalt Storage Bin:
I. Integrated asphalt storage bin; II. Separated asphalt storage bin.
Capacity: 60-400t/h.
Main Structure: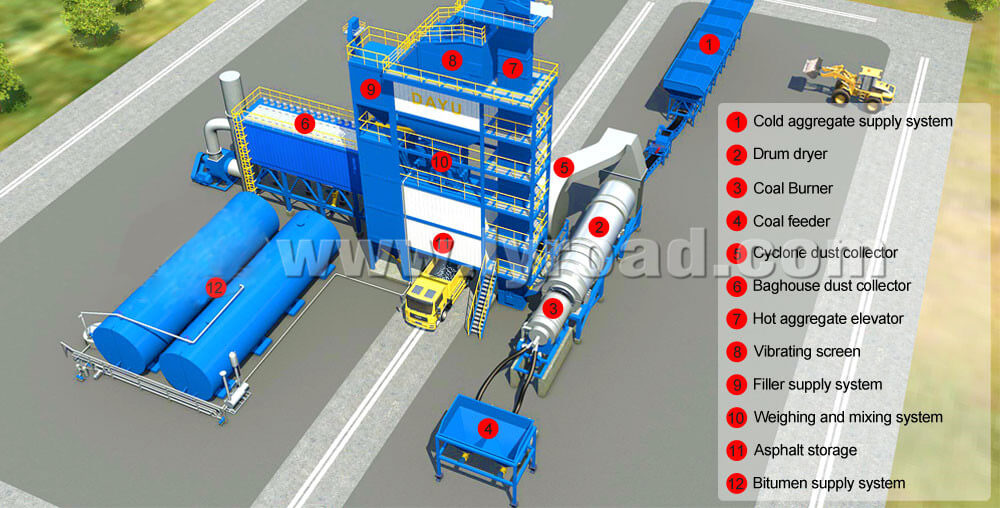 Main Parameter:
Model
Capacity
(Standard Conditions)
Mixer Capacity
Dust Remove Effect
Total Power
Fuel Consumption
Measurement Accuracy
Fuel Oil
Fuel Coal
LB700
60t/h
750 kg
≤20 mg/Nm³
178kW
5.5-7 kg/t
10kg/t
Aggregate: ±0.5%
Filler: ±0.5%
Bitumen: ±0.25%
LB1000
80t/h
1000 kg
≤20 mg/Nm³
285kW
5.5-7 kg/t
10kg/t
LB1200
100t/h
1200 kg
≤20 mg/Nm³
316kW
5.5-7 kg/t
10kg/t
LB1500
120t/h
1500 kg
≤20 mg/Nm³
380kW
5.5-7 kg/t
10kg/t
LB2000
160t/h
2000 kg
≤20 mg/Nm³
470kW
5.5-7 kg/t
10kg/t
LB2500
200t/h
2500 kg
≤20 mg/Nm³
547kW
5.5-7 kg/t
10kg/t
LB3000
240t/h
3000 kg
≤20 mg/Nm³
700kW
5.5-7 kg/t
10kg/t
LB4000
300t/h
4000 kg
≤20 mg/Nm³
870kW
5.5-7 kg/t
10kg/t
LB5000
400t/h
5000 kg
≤20 mg/Nm³
960kW
5.5-7 kg/t
10kg/t
Features:
● Modular design and integrity steel base, more rational layout, demolition - Transportation - installation faster and easier.
● Superior drying drum plate design, and independent research and development of advanced combustion heating technology to improve efficiency, reduce energy consumption.
● Plate chain type hot aggregate and powder hoist, to improve the life of the hoist.
● Plus high hot aggregate bin design to increase the stock of hot aggregate storage, to increase producing capacity.
● Using the world's most advanced technology pulse bag dust collector, soot emissions below 20mg/Nm3, meet the highest international environmental standards.
● Automatic / manual control system with fault self-diagnosis program, simple and safe.
● Optimized design, while using high-energy conversion rate Hardened reducer, energy efficient.
● Core components adopt international famous brand products, such as Siemens motors and electrical components, EBICO burners, Switzerland METTLER TOLEDO weighing sensor, etc., reduces the failure rate and prolong the life of equipment.
● Products through the EU CE certification and Russian GOST certification, the products in full compliance with U.S. and European markets for quality, energy conservation, environmental protection and safety requirements.
Send Enquiry