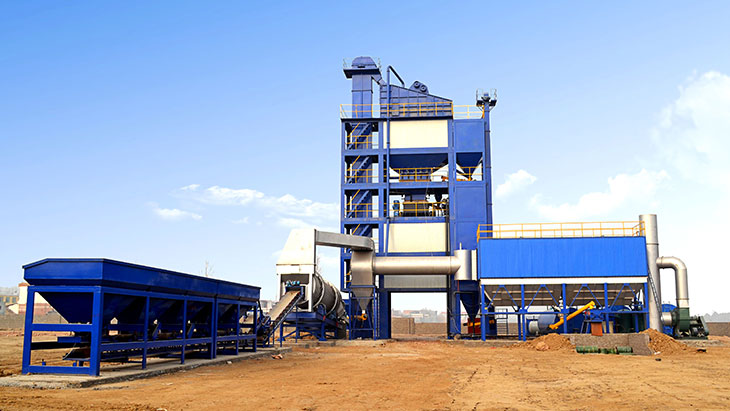 LB1200 Asphalt Batch Mixing Plant
Model:

LB1200

Product Capacity:

100 t/h

HighlightsStationary plant, batch mixing, precise batching;
Classic model, most cost-effective, best-selling.
Asphalt Batch Mix Plant LB Series is new and ideal construction equipment used for manufacturing asphalt that is mainly applied in highway road construction and other civil construction. As a professional asphalt mixing plant manufacturer and exporter, Liaoyuan Machinery is good at producing products to clients according to their actual demands. With high quality and lower price, asphalt batching plants produced by our company could also satisfy the international standards.
It is composed of cold aggregate supply system, drum dryer, burning system, hot aggregate elevator, vibrating screen, weighing system, mixing tower, dust collecting system, filler supply system, bitumen supply system, electrical control system and finished asphalt storage bin.
Model
LB1200
Capacity
100t/h (standard working condition)
Mixer Capacity
1200kg/batch
Drying Drum
Φ1600*7800mm
Fuel Consumption
Diesel: 5.5-7kg/t; Coal:10kg/t
Measurement Accuracy
Aggregate
±0.5%
Filler
±0.5%
Bitumen
±0.25%
Finished Asphalt Temperature
130℃-165℃
Dust Collector
gravitational dust collector & Second baghouse dust collector
Air Emissions
≤20mg/Nm³
Dark exhaust standard
Ringelmann I
Working room noise
≤70db(A)
Environment noise
≤80db(A)
Operation
Full Auto/Manual Operation
Total Installation Power
≈316kW
Voltage
220V/380V-50Hz (adjustable)
Plant Covering Area
Length: 40m; width: 30m; max height point: 17m
1. Modular design, compact structure
①. Aggregates elevator is integrated in the mixing tower, making it easy for installation, transportation and relocation;
②. The structure design of our asphalt plant fits container transportation standards, so it greatly reduces the transportation cost and risk, suitable for exportation;
③. Compared with side type product silo, the bottom type product silo makes the installation more convenient and shrinks the covering area. Also it reduces the failure rate because it doesn't need larry or rail.
2. Environmental friendly, qualified for European standards
①. Adopts optimized dual dust collecting system (primary volute dust collector + Secondary baghouse collector). Efficient pulsating dust-cleaning design, advanced waste powder wet-processing system and negative-pressure system of the main building ensure that the dust emission is under 20mg/m³;
②. Aggregate conveyor is protected by dustproof cover to make the dust leakage at lowest level.
3. Efficient and beneficial drying system
①. Latest burning control method with higher precision of temperature control and better combustion effect perfectly reduces the fuel consumption rate. The blade of drying drum is optimized;
②. The drying system works concordantly with the dust collecting system with higher thermal efficiency.
4. Super mixing ability and stable performance
①. The mixer has powerful overload mixing ability, and its mixing performance is so stable that it vastly decreases the amount of unqualified products;
②. Special made mixing blades plus simple and efficient driving mode make the mixing more convenient, efficient and reliable;
③. Double horizontal shaft structure can mix the aggregates evenly and sufficiently;
④. Bitumen sprayer can make use of every bitumen drop by spraying them evenly, in order to save the cost.
5. More functional and reliable control system
①. Control system adopts both auto and semi-auto control methods. When the PC fails, it's handy to control it manually by simply pressing buttons;
②. To keep safety, the control room is equipped with monitoring system, so the operator can observe the working situation of each key component.
6. More precise and trustworthy weighing system
①. Adopts world famous weighing system, it's more stable and precise;
②. The accuracy error of aggregate weighing is below 0.5%, and the accuracy error of bitumen and filler weighing is below 0.25%. Precise weighing guarantees the quality of final product, on the other hand, it saves the material cost for client.
7. Intelligent and simplified maintenance
①. Driving units adopt self-lubrication device, which saves labor and time cost;
②. Elevator uses double plate link chains design, which extends the elevator's service life, increases the stability, and reduces maintain frequency.
8. Safer and thoughtful facilities.
Maintenance catwalk and protective handrail are more thoughtfully designed to keep safe, for example, the handrail is made of plastics sprayed embossing steel pipes, so that it's easier to hold, and the foot plate employs hot galvanized grid plate which is anti-rust, anti-dust and anti-slip. Both of these details make the machinery more aesthetic.
9. Cost saving and benefit increasing
Super low fuel consumption, precise weighing system and durable quick-wear parts & wear-resistant parts, vastly reduces clients' cost and maximizes their benefit.
1. Aggregate supplying system
①. Protective plates on both sides of the aggregate hoppers to avoid sundries getting into the aggregates and conveying belt;
②. To make the supplying smoother, vibrators are equipped below each hopper;
③. Adds grid plate at top of each hopper to buffer the shock from aggregates flow, meanwhile it screens oversize aggregates;
④. Conveying belt is protected by dustproof cover to reduce dust emission;
⑤. Adds belt cleaners and pinch rollers to make the aggregates supplying more fluent and accurate, besides, they also extend the belt durability;
⑥. Small vibrating screen is added between belts, to further screen oversize aggregates;
⑦. The supplying system has insufficient material alarm system, ensuring a safe and smooth production.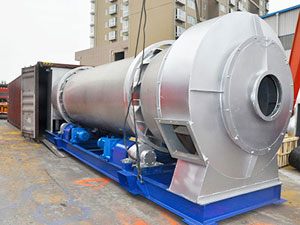 2. Drying system
①. Driving units have auto lubrication device, greatly reduces labor cost;
②. Different areas inside the drying drum have different blade configurations, which can handle aggregates in different processes;
③. The rolling rings and rollers are applying high strength wear-resisting material. Deviation preventing rollers for both rolling rings;
④. The cylinder adopts boiler steel and stainless steel skin, which gives it high temperature resistance and non-deformability;
⑤. The cylinder employs thermal insulating rock wool material that can maintain the temperature inside, reducing heat loss.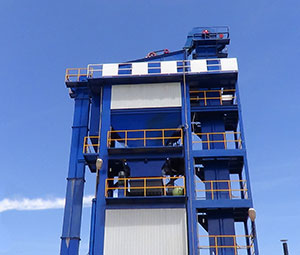 3. Aggregates elevating system
①. The aggregates elevator takes modular design with newest dust sealing structure;
②. Elevator applies double plate link chains design, which extends the elevator's service life and reduces maintain frequency.
③. Excellent leakproofness with the moters;
④. Applies famous cycloidal pin gear speed reducers, more powerful and reliable;
⑤. The aggregates slide tunnel adopts damping structure wear-resisting plate link chains to enhance the performance.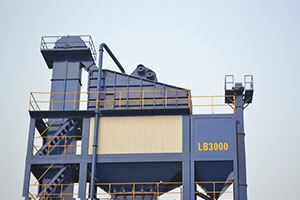 4. Screening system
①. Vibrating screens that apply world famous vibration motors are completely sealed;
②. Aggregate storage bin adopts large bin structure to avoid material overflow;
③. Aggregate bins are separated by high strength wear-resisting plate to avoid aggregates mixing.
5. Weighing system
Adopts world famous brand (TOLEDO) weighing component, to make sure that the measurement error of aggregates is below 0.5%, and the measurement error of bitumen and filler is below 0.25%.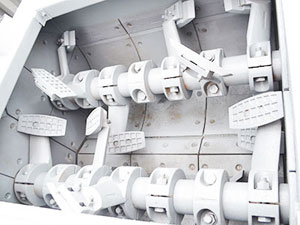 6. Mixing system
①. The mixer, mixing blades and liner plates are all using the best materials with high hardness and high abrasion performance;
②. The cycloidal pin gear speed reducer has better transmission efficiency and simpler structure.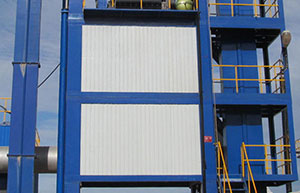 7. Finished product storage system
①. The storage silo has heating device to keep asphalt temperature and quality;
②. The silo has anti-blocking device to keep asphalt quality.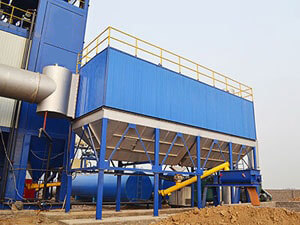 8. Dust collecting system
①. Double dust collecting systems, including the primary volute dust collector that gets rid of large size dust and secondary baghouse collector that further get rid of the rest dust;
②. Adopts famous brand draught fan, high efficiency against low power rate.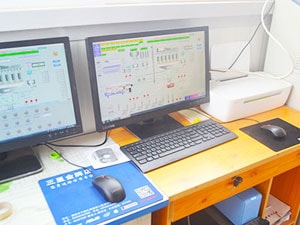 9. Control system
①. Fancy control room for operator, nice operating environment and good sound insulation effect;
②. Control room is equipped with split-type air conditioner, aluminium alloy sliding windows, wood floor and so on;
③. All operations are integrated in one room, auto and semi-auto control makes it easy to operate.
1.Appropriate rust-proof treatment reduces machine loss.
1) All the screws and bolts employ grade 8.8 hot-dip galvanization.
Some companies' screws and bolts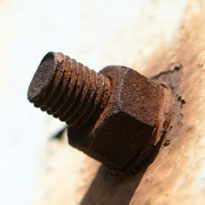 2) Painting: ① all parts are sandblasted; ② Two layers of base coat (epoxy Zinc-rich paint), one layer of antirust paint and one layer of finishing paint.
3) Galvanization: hot-dip galvanizing; chimneies, bitumen pipes and other pipes are galvanized.
4) Drum dryer, aggregates hopper and mixer lining are all coated with antirust paint.
5) Components are coated with antirust paint, as shown in the following pictures:
2. High safety degree
1) All the frames and supporting parts of mixing tower, batch hopper, baghouse dust collector are equipped with triangle reinforcement.
2) Standard stairs, handrails, ferrules and stages, etc.
① The guardrail height of main building is 1100mm with two front cross rails. The feet blocker is 150mm high. The width of stairs is more than 600mm, in accordance to international standard. The steps are anti-dust, water proof, antiskid and safe.
② All the vertical ladders are quipped with protective guard circles which are dismountable. Guard circles are protected by wire meshes as shown in the following pictures:
3) The standards of vibrating screen, crawling ladder and guard bar.
4) It is more safe that electric motor body, belt and gear is protected respectively. As shown in the pictures:
5) Controlling room:
① Container structure design;
② Simple decoration inside the controlling room;
③ High-level security measurement in the controlling cabinet.(The control panel and electric box are separated by solating valve in the control room);
④ The door and lock in the control room adopt the high quality famous brand(Panpan) security door. As shown in the pictures:
6) Security cable distribution:
① Wiring trunking is prepared;
② Leakage part is protected by the prepared wiring, as shown in the following pictures:
7) Batch hopper and protective screening are shown as follows:
8) The rolling ring and drive part of drying drum can be added protective cover according to the customers' demands in order to reduce consumption. As shown in the picture:
Your inquiry will be replied within 24 hours.